Today, we are rolling out updates for the OneNote Class Notebook add-in, including new Learning Management System (LMS) and Student Information System (SIS) assignment and grade integration for Edsby. To see the full list of over 40 committed education partners, please visit our OneNote Education Partners page. This page also has helpful training videos demonstrating how the OneNote Class Notebook integrates with each of the different LMSes. Read on to learn what's new in OneNote to help you in the classroom.
OneNote Class Notebook improvements
With this update we made several additions and improvements for the Class Notebook add-in (version 1.7.0), including:
Assignment and grade integration with

 

Edsby.
Schoology assignment and grade integration improvements.

Skooler assignment and grade improvements.
For details on how to attach your OneNote Class Notebook to an LMS or SIS and create assignments and grades, see "Class Notebook add-in getting started guide."
Add some fun to your notebooks with new sticker packs
One of the most popular education features we've added to OneNote over the past year has been stickers! We've seen teachers use and customize stickers in lots of fun and personalized ways. Today, we are launching two new sticker packs: Silly Supplies and Cacti Friends.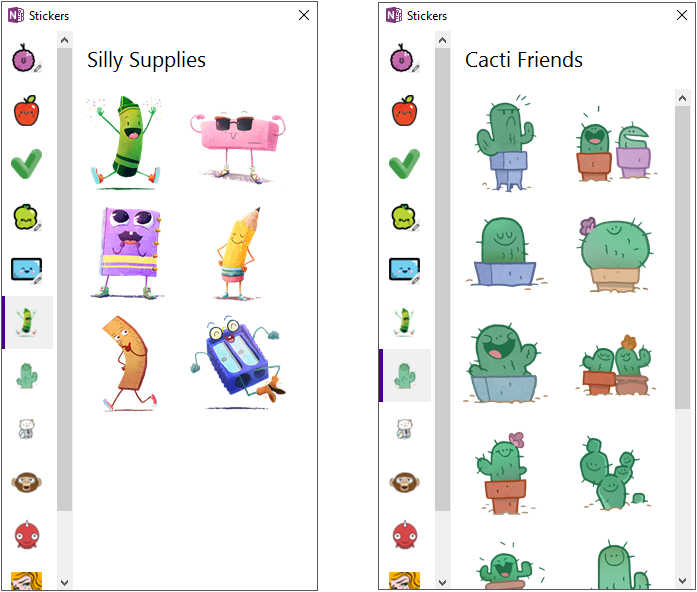 Improve reading comprehension with Learning Tools updates
We're also rolling out a new version of the OneNote Desktop Learning Tools add-in (version 1.4.0), which improves reading comprehension by:
Improved Syllables accuracy for English.
Added Syllables functionality for four new languages—French, German, Italian and Spanish.
Improved word detection and highlighting for Chinese and Japanese.
Transition to HelpShift for Support email.
Noun, verb and adjective highlighting will be coming to Spanish, French, German and Italian later this summer.
More updates to support you in the classroom
Find credible sources and content right within OneNote—Researcher is now rolling out in OneNote, making it easy for you to research your essay topic, create outlines and add sources—all without leaving the app. This means you can stay focused and save time, all while researching your topic. Researcher in OneNote for Windows 10 requires an Office 365 subscription, and is also available in Word on Windows desktops and Macs.
Take your Class Notebooks with you—Now you can save a copy of your notebook to your work or personal OneDrive. We know students or teachers move schools and classes; now your notes don't have to be left behind at the end of the school year. Learn how in just a few steps.
Redesigned OneNote for Windows 10 now available—Last month, we announced the new design for OneNote, which enhanced usability for those who use assistive technologies, simplified navigation controls and created consistency across devices. Now it is fully available on OneNote for Windows 10.
See how schools are already benefitting from switching to OneNote for Windows 10:
That's a wrap on OneNote for June. Stay tuned for more this summer! To get OneNote, leave a suggestion or ask for help, follow these links:
—Scott Shapiro, product marketing manager for the OneNote team
The post What's new with OneNote in the classroom—LMS integrations, Researcher and more stickers appeared first on Office Blogs.

Source: Office 365