Editor's note 4/12/2017:
This post has been updated to reflect that the PowerShell cmdlets related to deprecating APIs within the Office 365 Reporting Web Service will also be retired October 1, 2017.
Since March 2016, the usage reports in the Office 365 admin center have been providing admins with insights about how their users adopt and use Office 365. Today, we're pleased to announce the public preview of the new Microsoft Graph reporting APIs, enabling customers to programmatically access the data available within the usage reports.
Public preview of Microsoft Graph reporting APIs for retrieving Office 365 product usage data
The usage reports in the Office 365 admin center enable admins to understand usage across the various services within Office 365. However, many of you already have existing reporting solutions—such as a company reporting application or a web portal—in place. To assure that you can monitor your IT services in one unified place, the usage reporting APIs complement the existing usage reports by allowing organizations and independent software vendors to incorporate the Office 365 activity data into their existing reporting solutions. Using this API, you can retrieve the data available in all the usage reports, including organization level summaries per service, as well as entity level (user, sites, accounts) detail usage information for different reporting periods of the last 7/30/90/180 days, and daily activity aggregates.
Get started with the new APIs
Any user with global admin or product admin rights (for Exchange, Skype for Business and SharePoint) in the organization can retrieve data through these APIs. You can leverage the Microsoft Graph documentation for the reporting API and submit feature requests by asking or voting on an idea on UserVoice. Please submit questions by posting them on Stack Overflow and tagging microsoftgraph.
With this announcement, we're starting the deprecation of the following APIs available within the Office 365 Reporting Web Service: ConnectionbyClientType, ConnectionbyClientTypeDetail, CsActiveUser, CsAVConferenceTime, CsP2PAVTime, CsConference, CsP2PSession, GroupActivity, MailboxActivity, GroupActivity, MailboxUsage, MailboxUsageDetail, StaleMailbox and StaleMailboxDetail. We will remove these APIs, as well as any related PowerShell cmdlets, on October 1, 2017.
If you are currently using APIs or any of the related PowerShell cmdlets from the Office 365 Reporting Web Service, which are going to be replaced by the new APIs, please start planning the migration of any subsystems within your organization.
More management enhancements in March
Here's a summary of additional Office 365 administration updates for March:
Additional mailbox settings in the admin center—Admins can now convert user mailboxes into shared mailboxes directly from the main Office 365 admin center. The default resulting shared mailbox will continue to have a license; however, admins can manually remove the license after the conversion.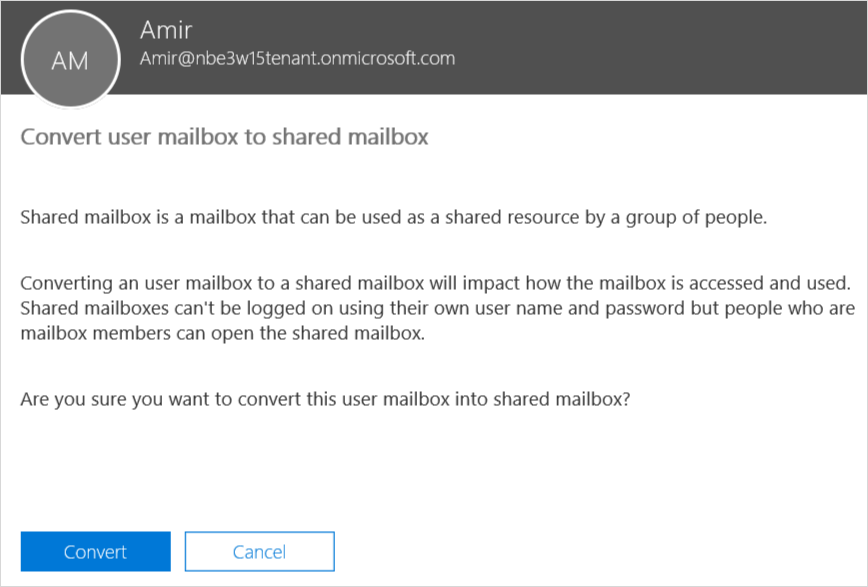 Admins have now more control over what items get copied to a shared mailbox by enabling the Copy items set on behalf of this mailbox toggle. This allows the admin to ensure that members of the mailbox can see what other members have sent on behalf of it.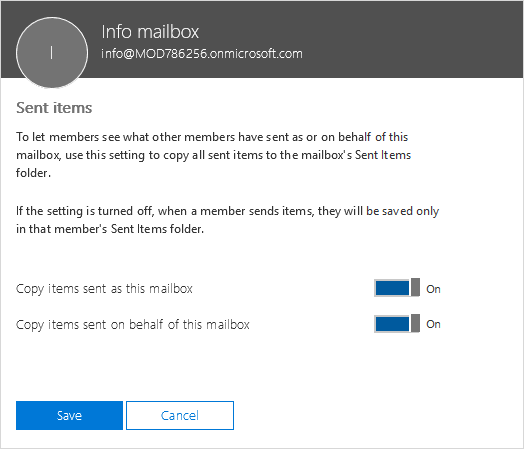 Dynamics 365 (online) admin role in Office 365 admin center—The Dynamics 365 service administrator role is meant for those who are administering Dynamics 365 for their organization. This role can now be assigned to users in the Office 365 admin center or via PowerShell. Once a user is assigned, they'll be able to access the Dynamics 365 admin center without needing a paid Dynamics license. For more information, see "Use the Dynamics 365 service admin role to manage your tenant."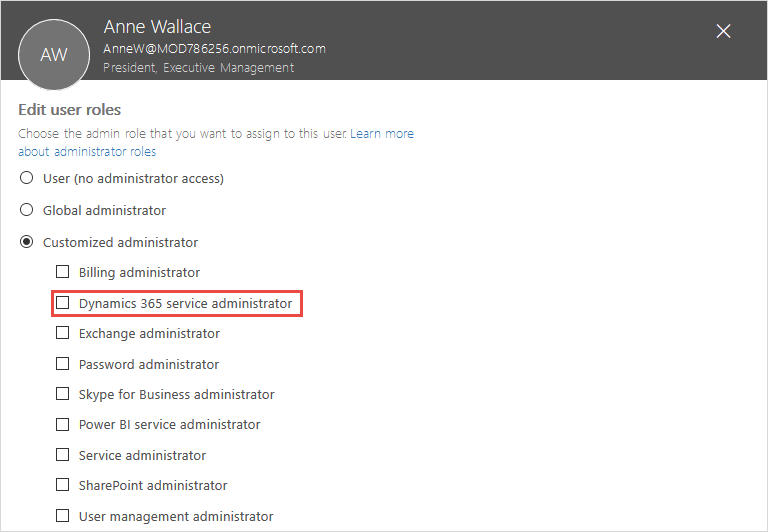 New employee quick start guide—It is important for a company to quickly onboard a new employee into their role. As part of the ramp-up process, admins are often asked to help the new employee understand and use the available software and tools—including Office 365. The new employee quick start guide helps admins quickly get users started with Office 365 by walking them through the sign-up process, the installation of apps, as well as common scenarios such as saving files to OneDrive. It is also a helpful resource for organizations that just deployed Office 365 to use with all employees.
Managing Microsoft Teams from the Office 365 admin center—On March 14, Microsoft Teams reached general availability. Microsoft Teams is now enabled at the tenant level by default but will continue to respect per user licensing. Tenant admins can control the organization-wide settings as well as the per user settings in the Office 365 admin center or via PowerShell script for bulk editing. Read this article to learn more.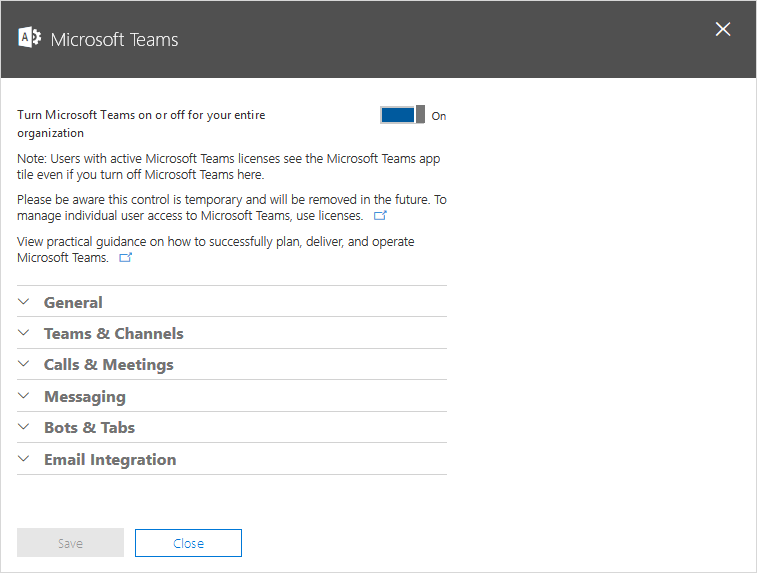 Improved support for full re-delegation of your domain—It is now even easier for admins to move their domain management to Microsoft. After adding a custom domain to Office 365, admins must verify that they are the owner of the respective domain by connecting it to Office 365. They can now do so by simply adding one TXT record to their name server DNS. Microsoft will then set up the online services and manage DNS records on your behalf.
New export capabilities in usage reports in the Office 365 admin center—Admins can now export the data from the organization-wide activity charts at the top of each usage report. By clicking or tapping the Export link, the data for the selected time period is exported into an Excel .csv file, enabling admins to further analyze or share the chart data with others. The export will contain data for the selected reporting period.
New Service health dashboard available for the mobile app—The new Service health dashboard has started to roll out to the Office 365 mobile admin app for Windows Phone, iOS and Android. The dashboard provides admins with a new level of service health insights that are personalized for their organization and that allow them to stay on top of service incidents, improve their internal support experience and improve their users' Office 365 experience.
Modern Service Management blog series—Regardless of the size of the organization, the move to Office 365 brings changes from a service management perspective. This blog series discusses major aspects of service management, including monitoring, incident management and change management in an evergreen service.
More to come
Over the coming months, we will add more reports focused on the clients used to access SharePoint and OneDrive for Business, as well as enhance existing reports, including the Microsoft Groups report. We are also working on making a reporting role and the Office 365 adoption content pack in Power BI available to all customers.
Let us know what you think!
Try the new features and provide feedback using the feedback link in the lower right corner of the admin center. And don't be surprised if we respond to your feedback. We truly read every piece of feedback that we receive to make sure the Office 365 administration experience meets your needs.
Please note: the features mentioned in this blog post have started to roll out. If they are not available yet in your region, for your subscription or for your organization, please check back in a few weeks!
—Anne Michels, @Anne_Michels, senior product marketing manager for the Office 365 Marketing team
The post What's new in Office 365 administration—public preview of Microsoft Graph reporting APIs appeared first on Office Blogs.

Source: Office 365