Today, we're pleased to announce that the new Office 365 Service health dashboard is now available to all customers. Since the first preview—announced at Ignite in September 2016—the new Service health dashboard has provided admins with a deeper level of service health insight. We're excited about the rich insights that it is bringing to admins.
The new Service health dashboard reaches general availability
For many of you, moving to Office 365 was a big change. In an on-premises world, if there was a service incident, you were the ones investigating and solving the issue. With Office 365, you trust Microsoft with running the service as well as with quickly solving service incidents. We know that having visibility into the service is crucial for you, and we built the Service health dashboard with that in mind. We are now providing an even deeper level of service health insights that are personalized for your organization. This allows admins to stay on top of service incidents, improve their internal support experience and improve their users' Office 365 experience.
We'd like to thank each one of you who has participated in the preview program and who has provided feedback on the Service health dashboard. Over the last four months, we have received numerous pieces of feedback that have helped us identify gaps, fix bugs and evolve the Service health dashboard to a monitoring experience that meets the needs of all company sizes. And it's great to hear how it is already helping you:
"The Service health dashboard has helped us better understand the current state of the Office 365 service and is a much clearer picture of potential service. It conveys easy to understand information about service health and makes me aware of what is relevant to me." —Customer feedback
Here is a summary of the main improvements:
Access rich and more actionable incident insights—The dashboard now features a view that separates major business critical outages from others and splits them into two categories: Incidents and Advisories. This view makes it easy for you to identify issues that you might want to act on immediately.
Quickly understand the incident—A summary view surfaces the most relevant and critical details to you in two short sentences—easy and quick to consume. If you want to access additional details, you can go to a more detailed view that provides you with all available information, including workarounds and message history. You can also access a history of incidents and advisories that occurred in the past 30 days.
Easily see the impact for your organization—The dashboard allows you to quickly understand the impact of the service incident on your organization by showing you the number of impacted users. (Please note: This functionality is currently available for Exchange Online–related incidents only and will be extended to other workloads over time.)
Quickly provide feedback—A rating option now enables admins to provide feedback on the accuracy and usefulness of the information of each post on the Service health dashboard.
To access the new Service health dashboard, click Service health in the left navigation menu in the Office 365 admin center.
More to come
This is just the beginning. Our goal is to provide you with richer and more actionable service health insights that will help you to stay on top of incidents, reduce support costs and improve end user experiences. We'll be adding more enhancements in the coming months, including:
Tell us about issues—If you are impacted by an issue that is not showing up on your Service health dashboard, the Tell us feature will provide you with a quick and easy way to let us know.
Stay informed through your preferred channel—The Service health dashboard will enable you to sign up for notifications via text and/or email, so that you can monitor the service and track issues through the channel you prefer.
Access user level details—In addition to the number of impacted users, you will also be able to access a full list of impacted users to enable you to drive more targeted communication and support.
Check the health of your users—On-demand user health checks will allow you to check end user health by running a test against our service. User Monitoring will enable you to proactively monitor specific users and to find out about possible health issues affecting those users right away—often before they might even notice them.
In-product messaging—The Service health dashboard will enable you to make your users aware of service incidents and inform them about possible workaround solutions through optional in-product notifications.
More management enhancements in February
Here's a summary of additional Office 365 administration updates for February:
Weekly Message Center digest—Based on popular demand, we introduced a weekly digest that enables Office 365 admins to receive a summary of their Message Center notifications via email. The Message Center is the main channel that Microsoft uses to inform admins about changes, maintenance work and updates coming to their service. To make it easier for you to stay up to date and to share the notifications with your co-workers, the weekly digest now brings them directly to your inbox and can be configured for delivery to any email address of your choosing—even an Office 365 Groups mailbox in Outlook. The weekly digest capability is currently available to Office 365 admins who are set to First Release in tenants with more than 50 subscribed users and will become available for all customers over time.
If you don't receive the weekly digest yet, you can also access the Message Center in the admin center, admin mobile app and Office 365 Service Communications API.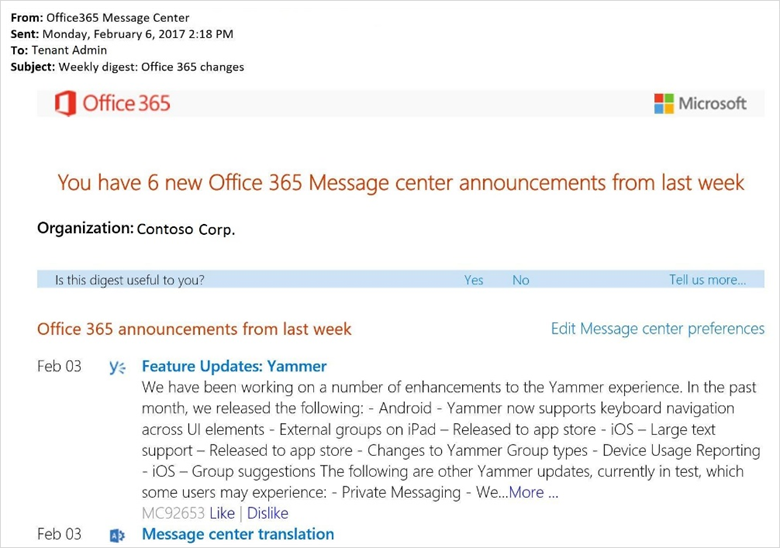 Introducing Azure AD tenant restrictions (preview)—Certain organizations choose to restrict internet destinations by filtering on Fully Qualified Domain Names (FQDNs) and/or IP addresses using proxy and/or firewall devices. However, this approach is not effective in a world where SaaS applications are hosted in a public cloud, running on shared FQDNs such as outlook.office.com (Outlook on the web) and login.microsoftonline.com (Azure AD). Blocking these FQDNs would effectively block access to every instance of the service, including the organization's.
The new tenant restrictions feature enables organizations to control access to SaaS cloud applications, based on the Azure AD tenant the applications use for single sign-on. For example, you may want to allow access to your organization's Office 365 applications, while preventing access to other organizations' Office 365 applications.
Tenant restrictions is a new feature being introduced to Azure AD Premium P1 subscribers and all Office 365 customers. To make use of this feature, Office 365 subscribers must enable Modern Authentication as the default authentication protocol for the cloud service and access the service using a Modern Authentication–enabled client. When you're ready to get started, see Use Tenant restrictions to manage access to SaaS cloud applications for more information.
Office 365 admin center learning page—To help small business run their business on Office 365, we've launched an Office 365 admin center video page that makes it easy to understand key management scenarios through a series of short, easy-to-follow videos. Learn how to add a domain name, add people, set up document storage, download software and much more. Please let us know what content you'd like to see as we continue to add more videos and categories in the coming months.
New Power BI admin role—The Power BI admin role is a new role in Azure AD, meant for those tasked with administering Power BI for their organization. Office 365 user admins can assign users to be Power BI admins within the Office 365 admin center or via PowerShell script. Once a user is assigned, they'll be able to access the Power BI Admin portal. There, they will have access to tenant-wide usage metrics and be able to control tenant-wide usage of Power BI features.
Office 365 admin app improvements—The Office 365 admin app now supports cert-based authentication and multi-factor authentication.
New tile for the Office 365 admin center dashboard—To enable admins to manage Office 365 more efficiently, we continue to evolve the admin center home page. In February, we included a Suggested Features tile that admins can add to their home page. The tile shows features we recommend enabling to increase the value your organization is getting out of Office 365.
In addition, we've started to retire the old admin center and the ability for customers to switch back to the old experience.
More to come
Over the coming months, we will add more reports, focused on the clients used to access SharePoint and OneDrive for Business. We are also working on making the Office 365 adoption content pack in Power BI available to all customers and on providing new public APIs that will enable you to programmatically access the usage data and integrate it into custom applications, like a company reporting portal.
Let us know what you think!
Try the new features and provide feedback using the feedback link in the lower right corner of the admin center. And don't be surprised if we respond to your feedback. We truly read every piece of feedback that we receive to make sure the Office 365 administration experience meets your needs.
Please note: The features mentioned in this blog post have started to roll out. If they are not available yet in your region, for your subscription or for your organization, please check back in a few weeks!
—Anne Michels, @Anne_Michels, senior product marketing manager for the Office 365 Marketing team
The post What's new in Office 365 administration—new Service health dashboard now generally available appeared first on Office Blogs.

Source: Office 365