Today's post was written by Jeff Henderson, executive vice president and CIO of TD Bank Group.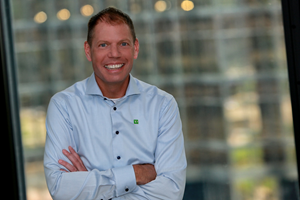 Growing from Canada's smallest bank to one of North America's largest in just over 20 years, TD Bank Group (TD) is in the habit of planning for the future. As we continue to expand, we are taking bold steps to make sure that the technology we use grows with us. Transforming technology at TD starts with listening to our employees and creating a "Workplace of the Future" that supports enhanced mobility and collaboration across the organization. We are deploying Microsoft Office 365 to empower employees to be more mobile and productive, so they can continue to provide the legendary customer service that has always set us apart.
Through a digital transformation in the workplace, we are positioning the bank for the future. Gone are the days where banks can expect customers to come to them. Enhancing mobility for our 90,000 employees supports how we accommodate customer expectations for great in-person service and across new digital channels. So, with more mobile employees, such as our mobile mortgage lenders, we are serving customers where it's most convenient for them. OneDrive for Business Online cloud-based storage provides the biggest impact in terms of improved mobility for our employees because we can access and share files regardless of location or device—plus we save money on storage costs. And employees will be able to edit and share files on the fly because they'll have access to all the Office 365 services from their mobile devices.
By making Microsoft applications available on mobile phones, and managing and securing them with Microsoft Enterprise Mobility + Security, we can free employees from their desks, so they can be productive anywhere. We're designing flex-based workspaces with unassigned desks to accommodate this new level of mobile productivity. And just as we're redesigning our physical spaces, we're also moving from a traditional methodology to an agile methodology, where we'll be using Office 365 collaboration services to support a new era of teamwork across functional areas of the organization.
However, from a technology enablement perspective, we can't deliver anything to our employees that would jeopardize the security and trust that we have built up with our customers over the bank's assets and information. We are impressed with the integrated, layered approach to cloud security that we see with Microsoft, including products like Customer Lockbox, that provides us with the requisite level of control over access to our content in the TD tenant by Microsoft service personnel.
The interoperability of Microsoft cloud-based services simplifies our job in IT, so we don't have to spend time integrating point solutions. And the evergreen nature of its cloud services ensures that we remain current on the latest technologies, ultimately reducing risk. Inclusivity is an important aspect of our Workplace of the Future, and we see Microsoft as a leader in the assistive technologies space. Microsoft understands the regulatory compliance environment within the banking industry and has been far and away the most accommodating in working with us to meet our needs as they pertain to our financial regulatory obligations.
In our push to modernize, Office 365 has already revealed impactful cost savings. With 90,000 employees and 110,000 Exchange Online mailboxes, we've saved 50 percent in email costs, and expect additional savings to come from consolidating our devices reducing storage costs and limiting the number of third-party applications in our IT portfolio.
As we achieve our vision for a new workplace and corporate culture focused on mobility and agility, we're positioning ourselves for success in the digital world, ensuring that our products and services continue to resonate with customers well into the future.
—Jeff Henderson
The post TD redefines banking in the digital age with the Microsoft Cloud to empower employees and transform the customer experience appeared first on Office Blogs.

Source: Office 365