When we think of restaurants, the first word that pops into mind is likely "food." But for Linda Derschang, CEO of the Derschang Group, the backstory and vibe of her establishments are equally essential to a fantastic dining experience. She's started a homey tavern that exudes the comradery of après-ski relaxation in a small-town bar in the mountains; a classy, yet comfortable restaurant where Big Sur of the 1970s meets the magic of Morocco; a bar based on the fictional story of a 1940s fisherman and others.
So how does Linda dream up these places and bring them to life?
"I love thinking about design, the story of a space and how I want people to feel when they're in it," Linda says. And it's critical that she do a good job of it—competition is fierce. "There's more pressure to succeed in today's market. There are so many restaurants and bars; you need to stand out to be successful."
Bringing a vision to life
Linda often starts with "a blurry idea" of what the interior of a restaurant or bar will look like. For many years, she found it challenging to share that idea with others. "I had to take what was in my head and explain it visually," she says. She tried putting together representative samples of textiles, tiles and photographs—but wasn't able to fully convey the feel of a room.
In 2012, one of Linda's team members showed her something that would prove to be a breakthrough. Linda says, "They taught me how to use the publishing layout in Microsoft Word to create collages to illustrate my ideas."
Linda uses the publishing layout to create her mood boards. "First, I think of the narrative I'm designing for and then I start mapping that to aesthetic patterns. I keep thinking about interesting juxtapositions and I bring them to life on the board," she says. Linda finds images on the internet of textiles, furniture, wall treatments and more, then copies and pastes them into her mood board.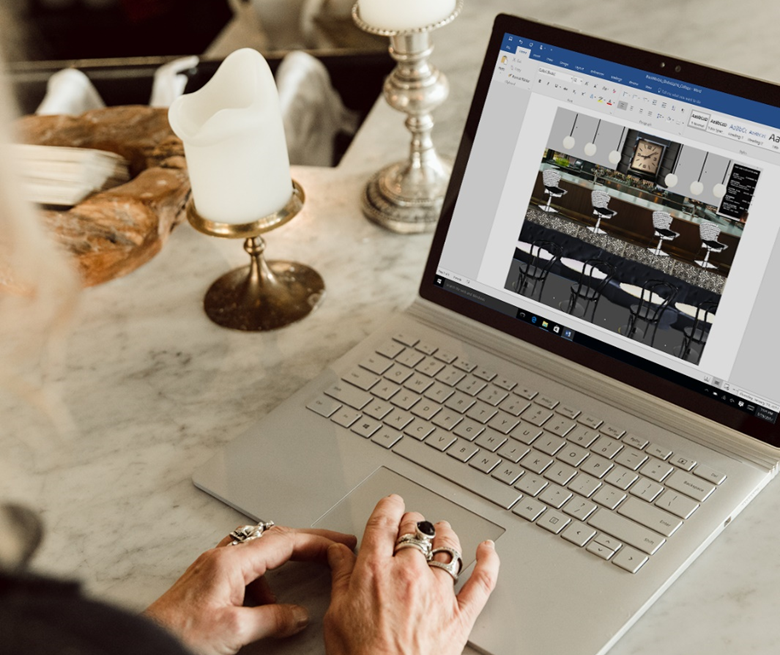 Linda Derschang created this mood board to share her idea for Tallulah's to investors and staff.
Sharing the vision
For Linda, expressing a vision is crucial to business success. She lives with the near-constant pressure of design and build-out deadlines, and the need to get each new business open quickly to start producing revenue. "I'm a visual person," she says. "Mood boards help people understand my sometimes-eclectic vision—they can see how everything works together." She can present mood boards in person and email them to others who can easily open and view her files. "Word is easy. It's intuitive. Everyone knows Word. It gets the job done."
The market is replete with visual software tools, but Linda uses Word because it's accessible and lets her convey her ideas quickly and easily. "Whether I'm sharing my concept with an internal team at The Derschang Group or pitching a design as a consultant, Word is a great communication tool for me," she explains.
Linda's visions are intricate and comprehensive, and that's why she's able to create a "whole world" inside a restaurant or bar. Her story for the Bait Shop is a testament to that: the fisherman's son takes over the bar, and one day he totals his Firebird sedan. All that's left intact of the beloved car is the hood—which he mounts on the wall in the bar. "I told my sister this story," Linda says. "And she asked, 'Wait…how did you end up with the hood?' And I said, 'No, that's the story I made up so everyone would get the vision.'" And yes, the car's hood was represented in Linda's mood board.
From fisherman to Firebirds, taverns to swank neighborhood joints, Linda's visions are convincingly real. Her success reflects a popular buy-in to the vibe and mystique of each spot. And the first step to making her visions real begins with her Office tools. She says, "Word has been tremendously helpful for zeroing in on my ideas, translating them to my team and making a whole new world for the public to enjoy."
The post Serving up great experiences with the help of Word appeared first on Office Blogs.

Source: Office 365