Today's post was written by Kirk Koenigsbauer, corporate vice president for the Office team.
This month, we released several improvements to our cloud-powered intelligence services. These services use machine learning and advanced algorithms to create magical experiences that save you time and help produce polished, gorgeous content. And they will just get better each month as we deliver continued innovation and further tune our intelligent recommendations as more people use them.
Jumpstart presentations with QuickStarter in PowerPoint
QuickStarter is now available in PowerPoint. Announced in September, QuickStarter reinvents how you create presentations by helping you conquer blank slides. Simply type in your topic and QuickStarter gets you going with a curated outline, recommendations on what categories to include, information to research further, and associated images tagged with Creative Commons licenses. Check out QuickStarter in action to see what it can do!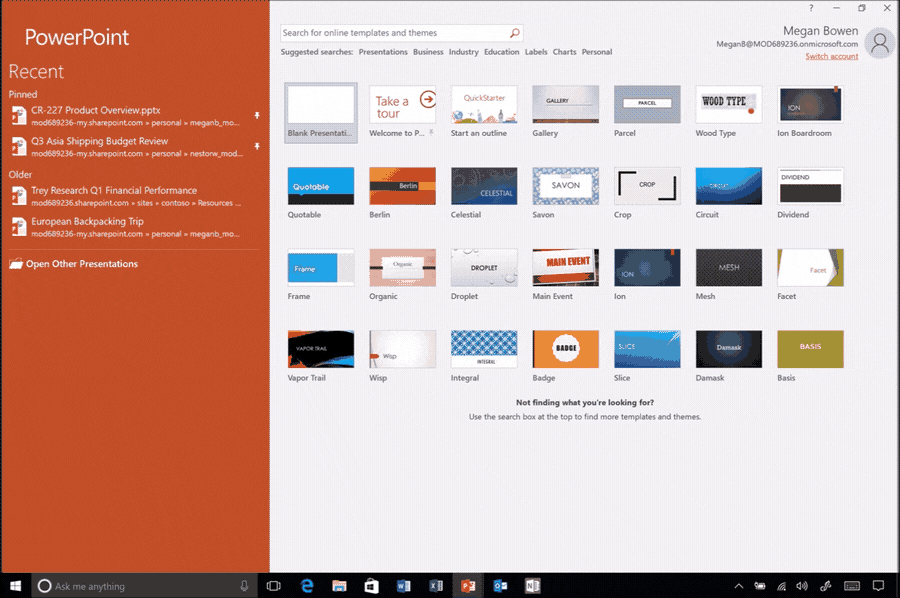 Jumpstart presentations with QuickStarter in PowerPoint.
Availability: QuickStarter is now available in PowerPoint on Windows desktops, for Office 365 subscribers in Office Insider Fast.
Writing assistance all in one place with Editor
Editor, your digital writing assistant in Word, is now even more helpful. The new Editor pane gives you additional information from its advanced spelling, grammar and writing style recommendations. It also makes it easy to scan your whole document. This experience replaces the Spelling & Grammar pane and incorporates inclusive design best practices to be accessible for the visually impaired. Learn more about Editor.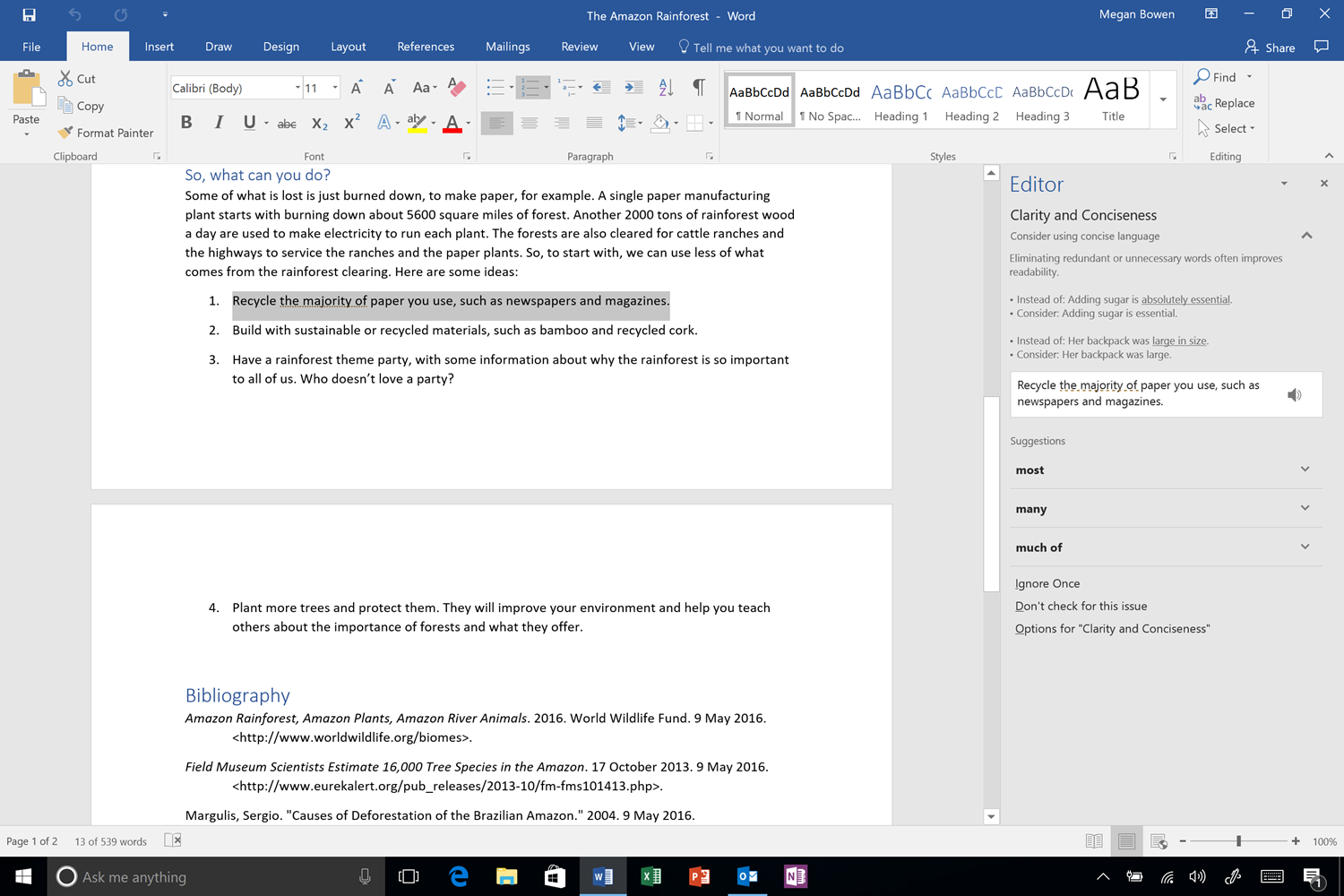 The new Editor pane helps you learn to improve your writing by providing even more information and context.
Availability: The new Editor pane is now available in Word on Windows desktops, for Office 365 customers in Office Insider Fast.
Remember commitments with Cortana's help
Cortana now works with Outlook to remember things you said you'd do in email. For example, Cortana will automatically recognize if you promise to send your boss a report by the end of the week and then proactively remind you so you can follow through at just the right time. Learn more and get started in this Windows blog.
Availability: Cortana's suggested reminders are now available in the U.S. on Windows 10, for customers using an Outlook.com email address or an Office 365 work or school account. Support for iOS, Android and other email services is coming soon.
Intuitive commands at your fingertips with Touch Bar support in Office for Mac
Touch Bar support is now available in Word, Excel and PowerPoint on Mac. As previously announced, the most common commands are intelligently placed at your fingertips based on what you're doing in the document, spreadsheet or presentation. For example, one tap can put you into distraction-free Focus Mode in Word or an enhanced slideshow experience with thumbnails in PowerPoint. Touch Bar support in Outlook for Mac is coming soon.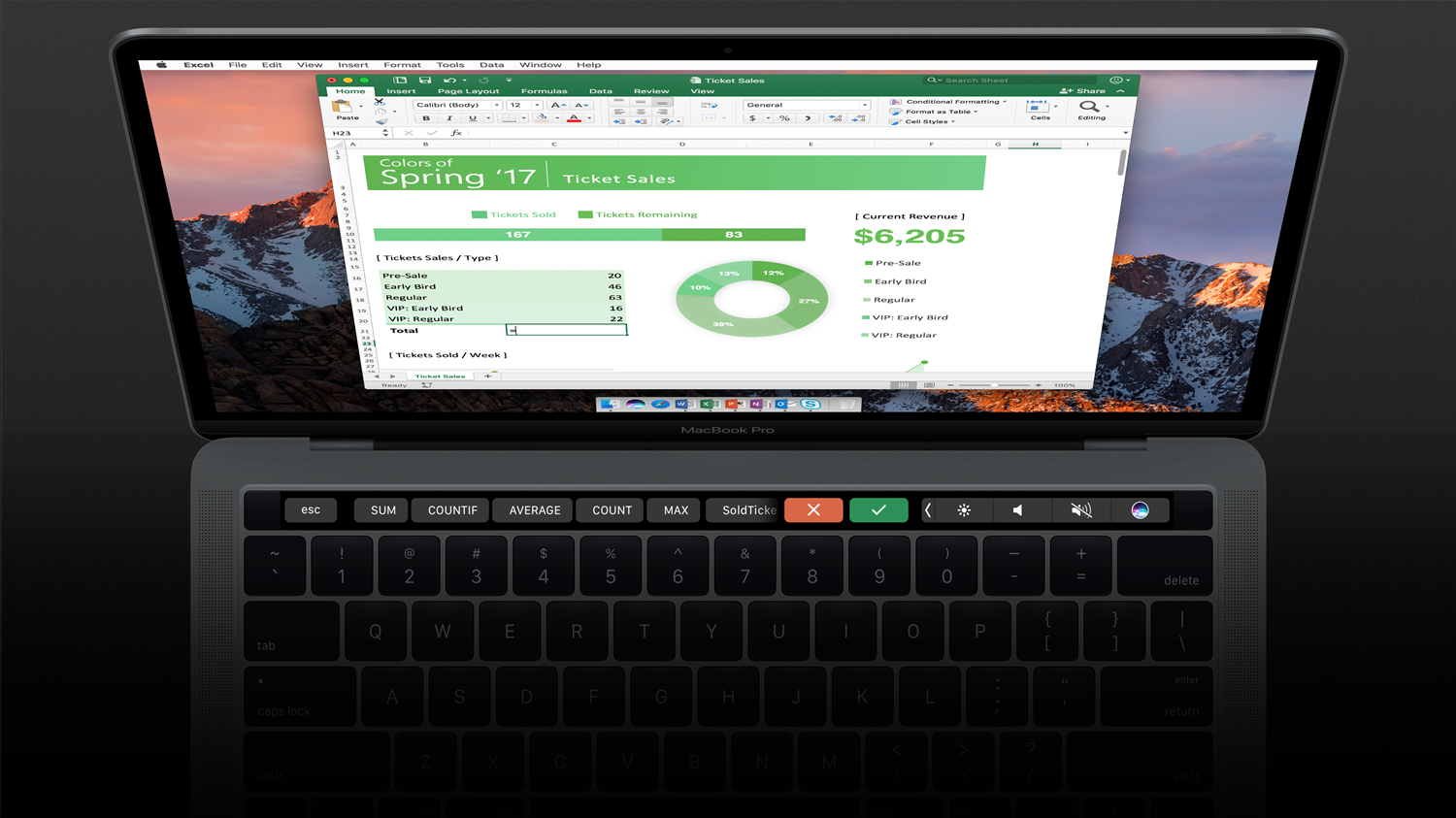 Access the most common Office commands in the Touch Bar, based on what you're doing in the document.
Availability: Touch Bar support is now available in Word, Excel and PowerPoint on Mac, for all Office 365 subscribers and Office for Mac 2016 customers. Touch Bar support is coming soon in Outlook on Mac.
New Office 365 capabilities help you proactively manage security and compliance risk
Earlier this month, we announced several new capabilities in Office 365 that help you manage risk and stay ahead of threats. We introduced a new security analytics tool—Office 365 Secure Score—which helps you understand your organization's security configuration and actions you can take to enhance security and reduce risk. In addition, Office 365 Threat Intelligence helps you stay ahead of cyber threats by leveraging billions of data points from the Microsoft Intelligent Security Graph. It offers information about malware families inside and outside your organization and integrates seamlessly with other Office 365 security features, so you'll be able to see analysis, malware frequency and security recommendations related to your business. We also introduced Office 365 Advanced Data Governance, which helps you find and retain important data while eliminating redundant, obsolete and trivial data that could cause risk if compromised. It does this by applying machine learning to intelligently deliver proactive policy recommendations; classify data based on automatic analysis of factors like the type of data, its age and the users who have interacted with it; and take action. Read this month's security and compliance blog for more.
Availability: Office 365 Secure Score is now generally available to commercial customers. Commercial customers can contact their Microsoft account representative to sign up for the private preview of Office 365 Threat Intelligence, or
register for the limited preview
of Advanced Data Governance.
Learn more about what's new for Office 365 subscribers this month at: Office 2016 | Office for Mac | Office Mobile for Windows | Office for iPhone and iPad | Office on Android. If you're an Office 365 Home or Personal customer, be sure to sign up for Office Insider to be the first to use the latest and greatest in Office productivity. Commercial customers on both Current Channel and Deferred Channel can also get early access to a fully supported build through First Release. This site explains more about when you can expect to receive the features announced today.
—Kirk Koenigsbauer
The post Office 365 news in February—new and improved intelligent services appeared first on Office Blogs.

Source: Office 365