Lynn Le founded Society Nine to provide women with combat sports gear made specifically for them. But she was ultimately driven by a goal much greater than that—to empower the fight within every woman. Communicating that message in a way that inspired everyone from potential investors to curious customers, to her own staff, was one of the biggest challenges Le faced as the company's visionary—and one that Office 365 continues to help her overcome today.
Using PowerPoint to help build a community
Whether it was creating pitch decks for investors, designing new product lines or building her "Brand Ambassador Bible," Le credits the visual nature of PowerPoint for helping her articulate her message clearly. "There's a story behind everything we do, including our boxing gloves, and PowerPoint helps us tell those stories," says Le.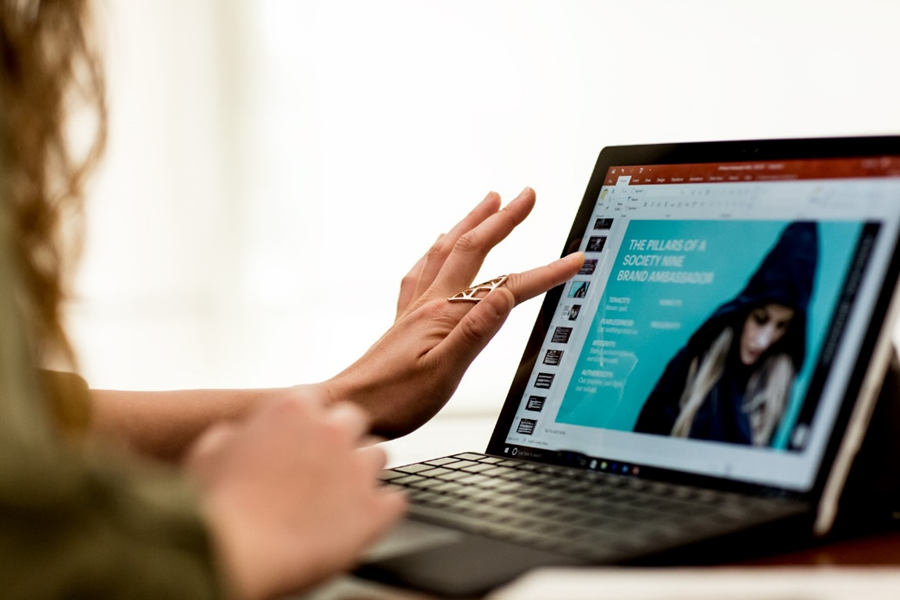 With ambassadors from around the world representing Society Nine in their local communities and gyms, it's important that everyone is on the same page when it comes to communicating the brand message to consumers. Le defines the Brand Ambassador Bible, created in PowerPoint, as "a true guide and home base that's visually driven. It's the story of what this community is all about that they can always come back to be reminded of what they are a part of."
Crafting a compelling pitch deck
Le relied heavily on PowerPoint to get the company off the ground in the early days, using it to create compelling pitch decks for potential investors. While your whole PowerPoint presentation needs to be polished and impactful, the three most important slides in your deck, according to Le, are:
The team—Who will be executing the vision of the company and taking it to market?
The market opportunity—How is the market evolving and how are you positioned in that market?
The ask—What are you asking for and what will you do with the investment?
These are the key questions investors ask when deciding whether to invest in a company or not. And Society Nine clearly had all the right answers. In just a few short years, Society Nine has grown into a successful company with loyal, passionate customers around the world. But Le isn't done yet. She says, "Society Nine is going to grow over the next year by expanding our product line and Brand Ambassador program, so that women everywhere, no matter where they're located, can feel supported in our community. I know we will have succeeded when Society Nine is linked to a time where women finally started using the word "fight" comfortably outside of sport and competition." Office 365 will be there to support them every step, kick and punch along the way.
The post Office 365 helps Society Nine empower the fight within every woman appeared first on Office Blogs.

Source: Office 365