Over the last few months, we've been on the ground asking users what features they would like to see in the Sway app. We heard all the ways you use Sway in your personal, school and work lives, and listened to tons of great recommendations on how we could make these experiences even better. As a result of this partnership, we're proud to announce another round of updates from the Sway team.
Audio recording
The ability to add audio to Sways was the top request from educators—as students and teachers (among others)—love to express their ideas and thoughts in this natural and intuitive way. Now, you can record your voice directly in Sway web app to make your Sway more interactive and engaging.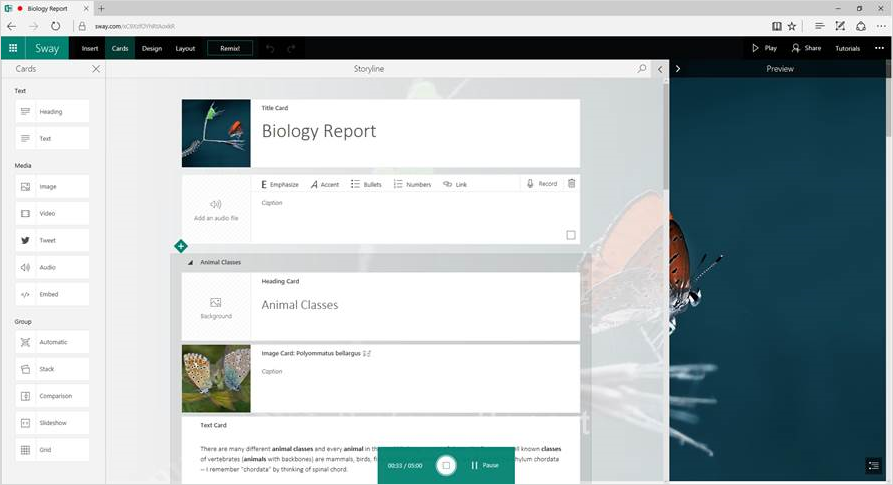 For more information on how to record audio in Sway and what browsers support audio recording, please see "Record audio in Sway."
Closed caption
With the Microsoft mission to empower every person and every organization on the planet to achieve more, we continue to add features to improve accessibility. We are excited to announce that authors can now associate closed caption files with their audio recordings or audio files added from their local drive or OneDrive/OneDrive for Business. Office 365 authors can also associate closed caption files with any video files uploaded from their local drive or from OneDrive for Business.
First, add a new video or audio card to your Sway—by either uploading the content, recording it or adding the content from your OneDrive/OneDrive for Business account—and then expand the card using the Details button. Next, click the Add closed caption button at the bottom of the expanded card and select your closed caption file (.vtt format) and the language it is in.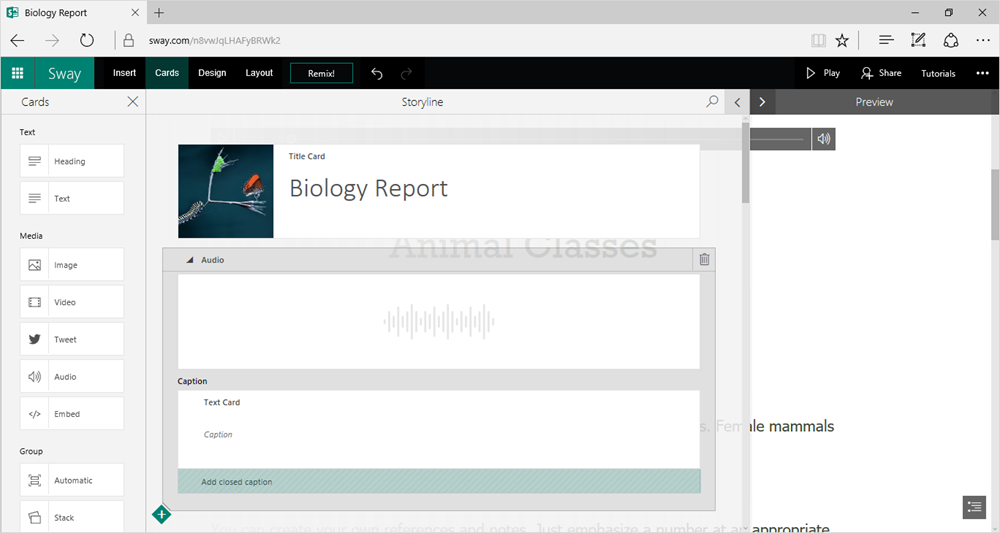 When viewing a Sway that has a video with closed captions available, it is easy to simply select the option to turn closed captions on and the language of the closed caption they'd like to see.
Navigation view
Sways are now easier to navigate. Jump back and forth between sections or get a glimpse of the Sway content—all from the new Navigation view.
When you click or tap the Navigation icon (in the bottom-right corner), the Sway fades into the background and the Navigation view appears. Your Sway title, section headers, images and text collectively form an engaging and informative navigation view.
Here's an example of the Navigation view in the Universe Sway:
Click or tap each section tile to jump to that section, or scroll to see more sections if your Sway is longer.
Autoplay
You told us you wanted to automatically play and continuously loop a Sway for unattended cases such as billboards.
We're happy to announce that, if you have an Office 365 subscription, you can now set your Sway to play automatically! If you are the author of the Sway, use the … menu on the top right to go to Settings and turn autoplay on. Additionally, you can autoplay any Sway you are viewing by clicking the Settings gear at the top right-hand corner of the Sway. In the Autoplay settings box, set the delay and then press Start. The Sway will now play automatically.
Once the Sway is playing, you can change the delay, pause or stop playback using the controls on the bottom-right corner.
View count
We also heard from our users that they want to know how engaged their audience is with their Sways. Now, authors can see how many people have viewed their Sway. We officially started the view count on March 13, 2017, so if you see "No data," this means that the Sway has not had any viewers since that date.
We hope you enjoy using the newest features in Sway, and as always, we look forward to your suggestions, feedback and comments on our UserVoice page.
—The Sway team
The post New to Sway—recording, closed caption, navigation, autoplay and view counts appeared first on Office Blogs.

Source: Office 365