Today's post was written by Kirk Koenigsbauer, corporate vice president for the Office team.
Earlier today in San Francisco, Harry Shum, executive vice president of Microsoft AI & Research, demonstrated how Microsoft is infusing intelligent technologies across our core products to make artificial intelligence (AI) available to everyone, with the simple goal of helping people deliver their best work.
Office 365 is built on Microsoft's powerful platform for AI that makes advancements in machine learning and AI accessible to every developer and organization. From document translation to intelligent threat detection, AI is already enhancing the productivity experience of over 120 million commercial Office 365 users.
New Office 365 AI capabilities this month help subscribers discover insights from data, leverage organizational knowledge, arrive on time for events, and more. Read on for details.
Automatically unlock rich insights with AI (preview)
Every day, millions of Office 365 subscribers rely on Excel to perform complex analysis and derive value from their organizations' data with intelligent tools like Flash Fill and advanced data transformation. For many, however, extracting key insights from a new data set can be intimidating. Today, we're announcing the preview of Insights in Excel—a new service that automatically highlights patterns it detects, which makes it easier for everyone to explore and analyze their data. Powered by machine learning, Insights helps identify trends, outliers, and other useful visualizations, providing new and useful perspectives on data. Insights begins rolling out in preview to Office insiders this month.
Excel will provide automatic insights.
Master company lingo with machine learning
Every workplace is unique, and understanding the internal acronyms in use across an organization can be essential to success. Today, we announced a new Microsoft Word feature called Acronyms. Powered by machine learning, Acronyms helps people understand shorthand that is commonly used in their own workplaces by leveraging the Microsoft Graph to surface definitions of terms that have been previously defined across emails and documents. Acronyms will begin rolling out to Word Online for Office 365 commercial subscribers in 2018.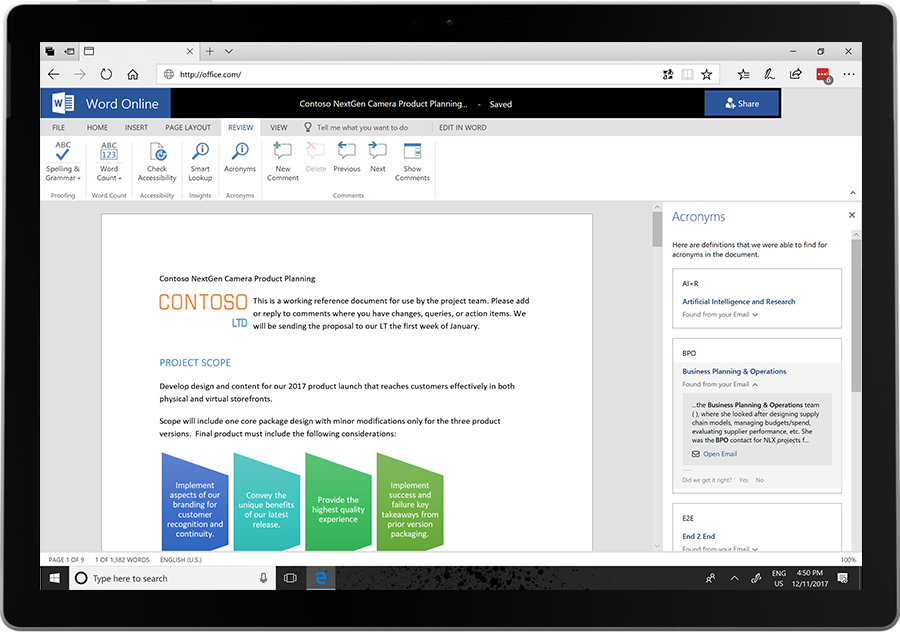 Master company acronyms in Word Online.
Get to events on time with Outlook
In 2017, we rolled out several new capabilities in Outlook that help users automatically detect trips and deliveries, triage email, schedule meetings, and more. Today, we're expanding this set of AI-powered tools by bringing Cortana to the Outlook mobile app to help users stay on top of their day. When it is time to leave for appointments, Outlook will now send a notification—with directions for both driving and public transit—taking into account current location, the event location, and real-time traffic information. Time to leave in Outlook is rolling out to iOS users this month in markets where Cortana is available.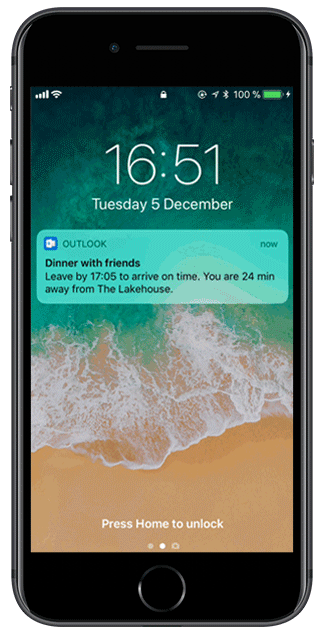 Outlook will notify you when it's time to leave for your next event.
Bring people, ideas, and content together with Microsoft Whiteboard Preview
This month, we also announced the preview of Microsoft Whiteboard for Windows 10 devices—a freeform digital canvas where people, ideas, and content can come together. Microsoft Whiteboard Preview is built for teams who ideate and work together across multiple devices and locations. Unlike traditional whiteboards, the app uses AI to recognize freeform drawings and turn them into standard shapes, so it's easier to create great-looking tables, diagrams, and flowcharts using only a pen. Users can work together in real-time on shared content and automatically save to the cloud to pick their work up later from another device. Microsoft Whiteboard is now available in preview from the Windows Store.
Find text in images with intelligent search
Earlier this year, we introduced the ability for OneDrive and SharePoint to automatically recognize the content within images and detect whiteboards, screenshots, receipts, and more. Today, we are expanding this capability to automatically extract searchable text from those images, making it easier to find a wide range of content, including receipts and business cards, using memorable search terms and without needing to know where the images are stored. Text in image search is currently rolling out and will be available to all Office 365 commercial subscribers by the end of December.
Search for text in images stored in Office 365.
Learn more about what's new for Office 365 subscribers this month at: Office on Windows desktops | Office for Mac | Office Mobile for Windows | Office for iPhone and iPad | Office on Android. If you're an Office 365 Home or Personal customer, be sure to sign up for Office Insider to be the first to use the latest and greatest in Office productivity. Commercial customers on both Monthly Channel and Semi-Annual Channel can also get early access to a fully supported build through Targeted Release (Clients, Services). This site explains more about when you can expect to receive the features announced today.
—Kirk Koenigsbauer
Availability:

Insights in Excel is starting to roll out in preview to Office 365 commercial subscribers enrolled in Office Insiders, in the United States this month. Because this feature is powered by machine learning, it will provide increasingly advanced analysis as usage of the feature grows over time.
Acronyms will be rolling out to Word Online for Office 365 commercial subscribers enrolled in Office Insiders in 2018.
Time to leave is rolling out to Outlook for iOS users in our Insider program this month, and then to all Outlook for iOS users in coming months. We also plan to make it available in Outlook for Android 2018.
Microsoft Whiteboard Preview is now available for Windows users in the Windows Store.
Text in image search is currently rolling out to Office 365 commercial subscribers and will be available worldwide by the end of 2017.
The post New to Office 365 in December—extending human ingenuity with everyday AI appeared first on Office Blogs.

Source: Office 365