Today's post was written by Kirk Koenigsbauer, corporate vice president for the Office team.
More than ever, effective teamwork is critical to your success. This month, we made the experience of working with others even better through the release of co-authoring in Excel, enhancements to Microsoft Teams, an updated Yammer app, and more. Read on for the details.
Work better together with Excel
Today, we're taking a significant step toward empowering people to work better together with the general availability of co-authoring in Excel. Now anyone can work together at the same time in spreadsheets stored in SharePoint Online, OneDrive, or OneDrive for Business. With Excel co-authoring, you'll find it easy to know who else is working with you in a spreadsheet and view their changes as you work.
We're also announcing the general availability of AutoSave in Word, Excel, and PowerPoint for Office 365 subscribers who store their documents in OneDrive and SharePoint. Whether you're working alone or with others, your latest changes are automatically stored in the cloud, and you'll never need to worry about hitting the save button again.
Co-authoring in Excel allows you to see where others are editing in the same workbook.
Empowering students and teachers with Microsoft Teams
In June, we announced new experiences in Teams designed to help schools foster deeply engaged classrooms, strengthen professional learning communities, and tailor more effective school communication. This month, we released new updates that make it even easier for students and teachers to achieve more together.
OneNote Class Notebook in Teams—Students and teachers can now enjoy a full view of their OneNote Class Notebook right from within Teams, making it easier than ever for everyone to stay on the same page. Educators and staff can also access their OneNote Class and Staff Notebook settings right within the app, simplifying classroom management.
Enhanced assignments—Teachers can now add web links to reference materials to class assignments distributed through Teams, ensuring students have access to the third-party resources they need to get started successfully. Scores from assignments can now be imported into a school's Learning Management System, ensuring a single source of truth for student grades.
Improved IT control—IT administrators can now specify permissions for third-party apps in Teams and can enable or disable private chat and class assignments. These enhanced controls empower IT admins to create a safe and secure learning environment tailored for their schools' unique needs.
OneNote in Teams helps students and teachers collaborate on project.
Rich profiles now available in Outlook for Windows
In today's complex and fast-moving workplace, an organization's most important asset is its people. This March, we announced our vision for an intelligent profile across Office 365 that enhances the way you connect with colleagues, external contacts, and groups. Today, we are rolling out this redesigned experience to Outlook for Windows. By tapping into the Microsoft Graph, the new profile puts the most important information at your fingertips, including relevant files, conversations, and group membership.
Improve company-wide communication with Yammer
The redesigned Yammer app for iPad offers an improved experience with universal search, automatic sign-in, and an updated design. This allows you to stay on top of company-wide announcements and communities and easily find the information you need while on the go.
We've also updated the Office 365 usage reports with a new Yammer activity report that helps administrators understand how your organization connects across Yammer. This new view highlights the number of existing communities and the activity happening within each, helping to identify best practices and drive adoption across your organization.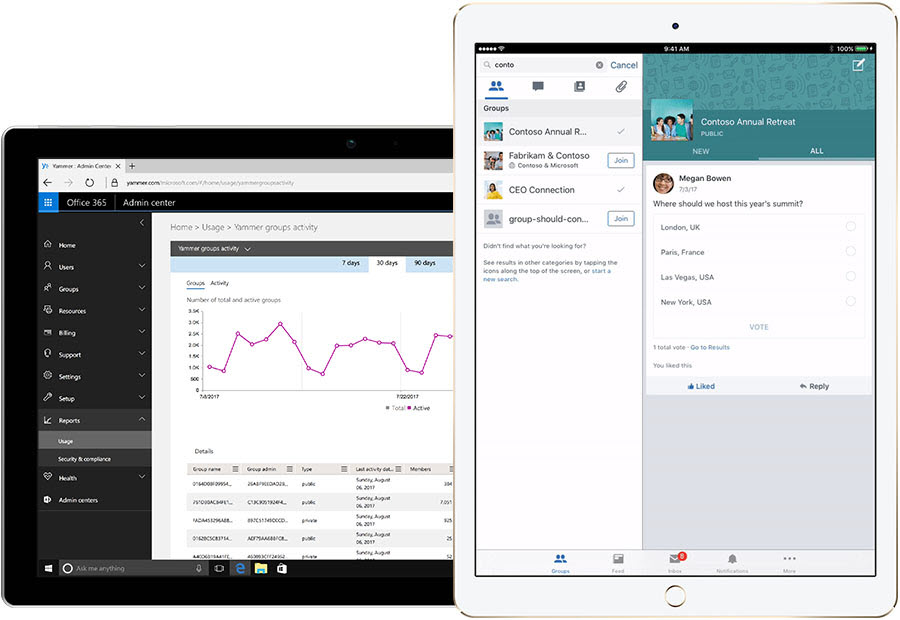 The new Yammer app for iPad and activity report help organizations drive teams to work together company-wide.
Learn more about what's new for Office 365 subscribers this month at: Office on Windows desktops | Office for Mac | Office Mobile for Windows | Office for iPhone and iPad | Office on Android. If you're an Office 365 Home or Personal customer, be sure to sign up for Office Insider to be the first to use the latest and greatest in Office productivity. Commercial customers on both Current Channel and Deferred Channel can also get early access to a fully supported build through First Release. This site explains more about when you can expect to receive the features announced today.
—Kirk Koenigsbauer
How to access these updates:

Co-authoring in Excel is now available on Windows for all Office 365 subscribers.
AutoSave in Word, Excel, and PowerPoint is now available on Windows for all Office 365 subscribers.
OneNote Class Notebook in Microsoft Teams is now available on Windows, Mac and web clients for all Office 365 Education subscribers.
Enhanced assignments and improved admin controls are now available for all Office 365 Education subscribers.
Rich profile experience in Outlook is rolling out on Windows for all Office 365 Commercial subscribers.
New Yammer apps are now available in the Apple App Store.
Yammer activity report is now available in the Office 365 admin center.
The post New to Office 365 in August—enriching teamwork appeared first on Office Blogs.

Source: Office 365