Today, during the SharePoint Virtual Summit, we unveiled a new wave of innovations that build upon the vision we set forth last year to reinvent content collaboration and usher in a new generation of mobile and intelligent intranets.
Customers' successes inspire us and illustrate how SharePoint and OneDrive in Office 365 empowers individuals, teams and organizations to share with confidence, transform business process, inform and engage the organization, and harness collective knowledge. Today's announcements make it easier than ever for you to drive these outcomes and accelerate your digital transformation. For even more insights, read Jeff Teper's post, "SharePoint Virtual Summit showcases growth, innovations and customer success."
Here's a recap of the headline announcements that Jeff covered in his blog, and the broader set of innovations we highlighted during the SharePoint Virtual Summit.
Share with confidence
OneDrive lets you share files securely with anyone—inside or outside your organization. Its deep Office integration, which powers rich co-authoring, allows you to collaborate on these shared files with others in real time. And it lets you access all your Office 365 files, including your individual work files and files shared with you by individuals, teams and the organization—regardless of whether you're on a PC, Mac, an iOS or Android device or a Windows phone.
See all your files in File Explorer with OneDrive Files On-Demand
Last week at Microsoft Build 2017, we announced OneDrive Files On-Demand, coming to preview on Windows 10 this summer. Files On-Demand enables you to work with all your files in Office 365—both work and personal, across OneDrive and SharePoint—right from File Explorer, without having to download them and use storage space on your device.
Work with all your files in Office 365 from File Explorer with Files On-Demand.
Share files directly from File Explorer on Windows and Finder on Mac
Today, we also announced that starting this summer you will be able to share Office 365 files directly from File Explorer on PC and Finder on Mac. The sharing experience has been simplified, so you can share a file or folder with specific people or send a link that enables anyone who needs access, inside or outside your organization. In addition, you can now control how long a link provides access, and you can easily view and modify the permissions you have granted. The new sharing experience is the same, whether you share on the web, in Explorer on Windows 10 and Windows 7, or in Finder on Mac.
Share files and folders with colleagues inside and outside your organization directly from File Explorer on Windows 10 and Windows 7.
Share files and folders with colleagues inside and outside your organization directly from Finder on Mac.
Innovations that we've released over the last year and announced today are sparking customers to choose OneDrive over other file storage and sharing solutions. Read "File sharing and cloud storage with OneDrive and Office 365" to learn more.
To learn more about these and other announcements for OneDrive, read "New sharing features for OneDrive and SharePoint" and watch OneDrive for Business updates: simplified sharing and files on demand.
Connect SharePoint team sites with other Office 365 content and services
Over the last year, we modernized SharePoint team sites and connected them with Office 365 Groups. Today, we announced additional enhancements—coming later this year—which will further unify collaboration experiences in Office 365, including:
The ability to connect existing SharePoint team sites to Office 365 Groups, so you can augment existing sites with shared conversations, calendar and Planner.
Support for adding SharePoint pages as tabs in Microsoft Teams so you can add a tab with a news article or your team site's homepage, for example. This builds upon the existing ability to add tabs for SharePoint document libraries in Teams. More integration between Teams and SharePoint will be shared at Microsoft Ignite.
Add a SharePoint page to a Teams channel.
To learn more about these and other announcements for SharePoint team sites, read "Personalize team sites in Office 365 and amplify your work using Microsoft Teams and Office 365 Groups" and watch New personalized, focused experiences across your SharePoint team sites.
Transform business process
SharePoint enables you, your team and your organization to streamline tasks, automate workflows and integrate processes seamlessly into your work—on any device and from anywhere you work.
Create custom SharePoint forms and digital experiences with PowerApps
Starting this summer, you will be able to use Microsoft PowerApps to easily create custom forms and rich digital experiences that surface right in the context of a SharePoint list or library. Users can then create, view and interact with data using your custom form or experience, rather than default SharePoint forms.
Create custom forms inside SharePoint lists and libraries with no code using PowerApps.
This is a significant milestone for both SharePoint and PowerApps, as it empowers any user to drive transformation of team and organizational processes.
Simple approval flows built in to SharePoint libraries
We also continue to deepen integration of SharePoint and Microsoft Flow. New built-in approval flows let you send any document for approval with a custom message. The recipient can approve the request directly from a rich, actionable email message, so approval and feedback can be given without leaving your inbox.
Approval flows, built in to SharePoint, send a rich, actionable email message.
To learn more about these and related announcements we made today, read "Reinventing business processes in SharePoint" and watch Zero code business process apps in SharePoint with PowerApps and Microsoft Flow.
Inform and engage employees
An intranet lets you communicate to people—keeping them informed of news and information. And it enables you to communicate with people—to engage employees and foster open conversation. It is this engagement that is fundamental to driving digital transformation and culture change.
Reach a broad audience with SharePoint communication sites
As the next step toward ushering in the next generation of intranets, we announced SharePoint communication sites—coming this summer. A communication site is a beautiful, dynamic site that lets you reach a broad audience to keep the organization informed and engaged. Communication sites look great on the web, on a PC or Mac, on mobile browsers and in the SharePoint app.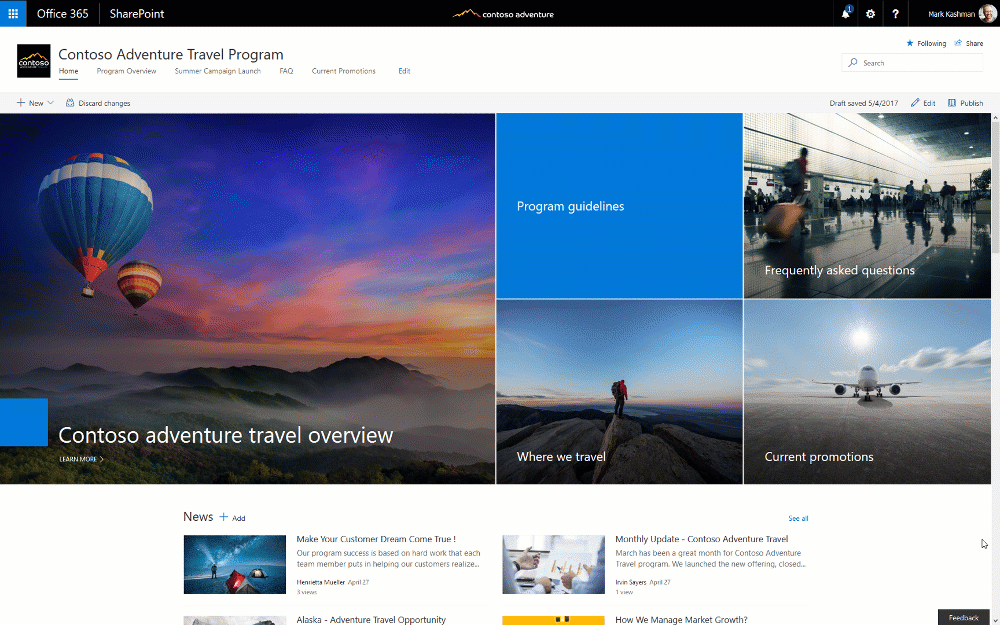 Easily create beautiful intranet sites to reach a broad audience across your organization.
While your team site lets you share within your group as you're working, a communication site lets your group share broadly and communicate its message across the organization. News published on a communication site surfaces on SharePoint home in Office 365 and on SharePoint mobile to all users who have access to the site.
Communication sites can be created in seconds. You can configure the default web parts on your site's pages to tell your story. You can customize page layout with new multi-column sections and drag-and-drop authoring with a range of richly functional web parts, including an image gallery, interactive Bing maps, videos from a Microsoft Stream channel, and a new events web part. Add the Yammer web part to solicit feedback and foster conversation, right in the context of a communication site.
To learn more about communication sites, read "Reach your audience via SharePoint communication sites in Office 365" and watch An overview of SharePoint communication sites.
Harness collective knowledge
As the pace of work accelerates, it's more important than ever to harness collective knowledge by making it easier to find information and expertise, right when it's needed, and to encourage best practice sharing.
Find people, expertise and content faster with powerful, personalized search
Today, we announced a more personalized search that leverages machine learning and artificial intelligence from Microsoft Graph to surface more relevant and valuable results, faster. When you click in the Search box on SharePoint home in Office 365, recommendations appear instantly. You'll see recent files, making it easy to get back to your work, as well as relevant content, sites and news.
When you're searching for knowledge, it may be found in content such as files, sites and news. And it might also be found through your colleagues. Now, your search results will include people whose skills, interests and projects—part their Office 365 profile—are relevant to your query.
Search results activate people cards, so you can learn at a glance about a person and the content they work on. One more click activates an extended view with richly detailed information from the user's profile. These enhancements to search will roll out over the next few months.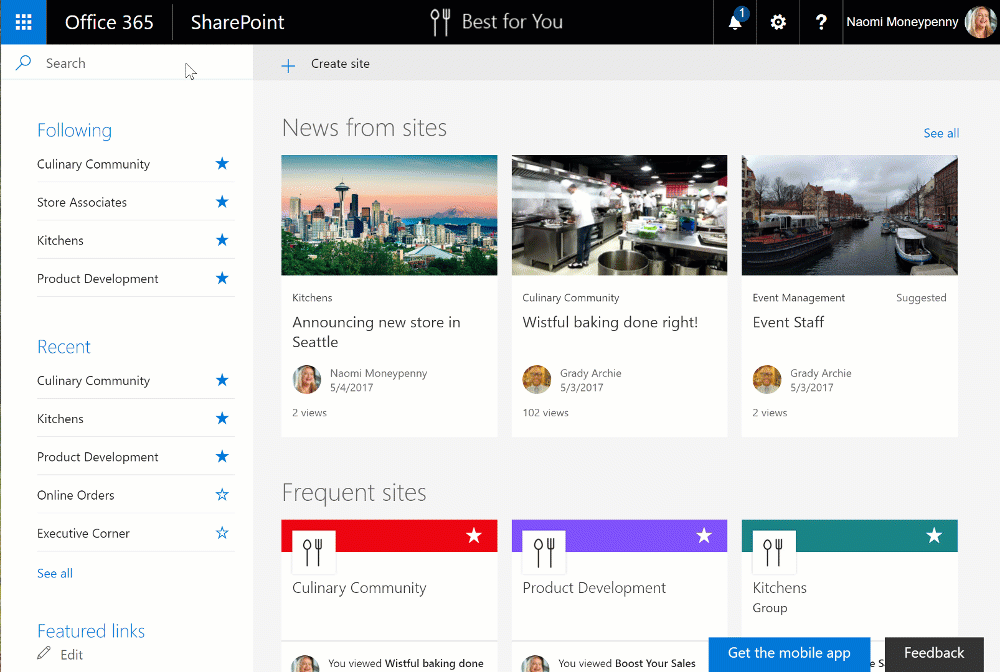 Find what you need faster with instant, personalized results that include files, sites, news and people.
We also demonstrated how building communities using Yammer with SharePoint encourages people to share content, knowledge and best practices across the organization, by adding a conversational layer to your intranet.
Build a community with shared content and conversation using a SharePoint communication site and Yammer.
To learn more about Yammer integration with SharePoint and related announcements made today, read "New in Yammer: Building a More Engaged and Connected Organization" and watch Updates to Yammer: Integrating conversations into your SharePoint experiences.
Secure your content and manage your service
Innovation in the cloud drives tremendous business value, and it delivers new capabilities to the IT professionals who work tirelessly to support, configure, administer and secure their organizations' content and services.
Empower administrators with the new SharePoint admin center
Today, we announced the new SharePoint admin center, which will begin rolling out in the fourth quarter of 2017. From the homepage, you'll notice just how much better it is, with interactive usage reports, Message Center posts and a Service Health dashboard tuned to the needs of SharePoint administrators.
The new SharePoint admin center surfaces usage, health and administrative messages.
You'll easily find and work with the dozens of SharePoint settings we give you to configure sharing, access and the service. And we know you'll love the dynamic new Site Management page, which lets you view, filter and edit the configuration of all of your SharePoint sites—including sites connected to Office 365 Groups.
Manage all of your sites in the new SharePoint admin center.
To learn more about these and other announcements regarding SharePoint security and manageability, read "Secure your information with SharePoint and OneDrive" and watch New admin controls for SharePoint and OneDrive for Business.
Extend SharePoint and OneDrive
Just as we innovate for business users and IT professionals, we innovate for developers and partners. Last week at Microsoft Build 2017, we unveiled new capabilities to extend SharePoint experiences and build custom applications with SharePoint and the Microsoft Graph. We enhanced the SharePoint Framework with new extensions, coming soon in preview, for sites and libraries. We announced web part connections and File Handlers version 2, in preview, supporting more deeply integrated experiences. Finally, Microsoft Graph features new production endpoints for site data, as well as extended APIs for lists, in preview.
To learn more about announcements for SharePoint developers, read "Your guide to SharePoint at Microsoft Built 2017" and watch Updates to the SharePoint Framework with SharePoint Framework extensions.
Continued commitment to on-premises and hybrid customers
Last year, we released SharePoint Server 2016 to general availability and announced a vision to bring cloud innovation to on-premises customers through Feature Packs. We released Feature Pack 1 in November, with a new, responsive user interface for OneDrive and cloud coexistence features, including hybrid taxonomy and hybrid auditing. And today, we announced that we will bring the first components of the SharePoint Framework to SharePoint Server 2016 with Feature Pack 2 later this year. This will enable developers to use an updated client-side development model to create web parts and solutions that can power new solutions on-premises, in hybrid experiences and in Office 365.
To learn more about innovations for on-premises and hybrid SharePoint customers, read "SharePoint Server 2016 and Beyond" and watch SharePoint Server 2016 updates and advances in Cloud coexistence.
Accelerate your digital transformation
Today, we unveiled the latest innovations for SharePoint, so you can share and manage content, knowledge and apps and build a more connected workplace. We announced new features for OneDrive and deep integration across Office 365, Azure and Windows. And there's more to come. Join us at Microsoft Ignite, where we look forward to hearing your feedback—and celebrating your success—as we partner to accelerate your digital transformation.
—The SharePoint and OneDrive teams
If you missed the event today, you can view the recording of the SharePoint Virtual Summit.
The post New SharePoint and OneDrive capabilities accelerate your digital transformation appeared first on Office Blogs.

Source: Office 365