Last year, we released Microsoft Bookings to customers in the U.S. and Canada, introducing an easy way for small businesses to schedule and manage appointments with their customers. Today, we are pleased to announce that we're beginning to roll out the service to Office 365 Business Premium subscribers worldwide. Based on your feedback, we are bringing several new features to Bookings:
Add your Office 365 calendar to Bookings—Connect your Office 365 calendar to Bookings, so that the times you are busy will automatically be blocked in your public Booking page.
Add buffer time before and after your appointments—Do you need prep time before or after an appointment? Adding buffer time to a service automatically blocks that time in your Booking page too.
Bookings apps for your iOS and Android phone—Now you can book an appointment, contact a customer or check a staff member's appointments while away from the office.
Customize your Booking page—We added more color customization options, so you can better personalize your Booking page.
These new capabilities will start showing up automatically in Bookings in the coming weeks. Let's take a detailed look at what's new.
Add your Office 365 calendar to Bookings
One of the top pieces of feedback we've heard is that you want to be able to add events from your Office 365 calendar to Bookings. So, we added integration between these calendars to help you avoid booking customer meetings during the time you've set aside for personal appointments, staff and partner meetings or other aspects of running your business.
To add Office 365 calendars to Bookings, click the Staff tab on the left navigation panel. On the Staff details page, select the Events on Office 365 calendar affect availability checkbox.
Add Office 365 calendar events to Bookings.
Once you activate this option, the system automatically blocks busy times on the Bookings calendar and on the self-service Booking page your customers see, so that you won't get double-booked. Similarly, so your staff doesn't get double-booked, you can also add their Office 365 calendars.
Add buffer time between appointments
Some services can be provided through back-to-back appointments. But another top piece of feedback you gave us was that many of your services require travel, prep and/or set-up time beforehand, and clean-up and travel time once the service was delivered. For customers with these needs, we added buffer times to give you more options to customize the services you deliver.
To add buffer times, click the Services tab in the left navigation column and either edit a current service or create a new one. Turn on the toggle below the Buffer time your customers can't book and you will get buffer time selections that can be applied before and after the service appointment. These are times your customers can't book an appointment with you before and after an appointment.
You can turn on the "buffer time" option in the Services tab.
Apps for iOS and Android
We know it's essential for you to keep up with your business while you are away from a desk, so we built mobile apps that let you manage your bookings and staff, or access your customer list while you're on the go.
After you download the Bookings app on iOS and Android, you can use your phone to:
View and manage your Bookings calendar.
Create and edit bookings.
See real-time availability and whereabouts of your staff.
Respond to customers with bookings quickly and easily.
Get directions to your next booking.
Access your customer list.
Customize your Booking page
Your Booking page should look and feel like an extension of your business, and it needs to positively reflect your brand.
To help you achieve this, we added options to customize it. For example, you can choose your main color for your Booking page from a color palette, and choose whether you'd like to show your business logo.
To customize your page, click Booking page in the left navigation list and select the color you want. If you don't want your logo to be displayed, uncheck the Display your business logo on your booking page checkbox. Once you are done, simply click Save and publish.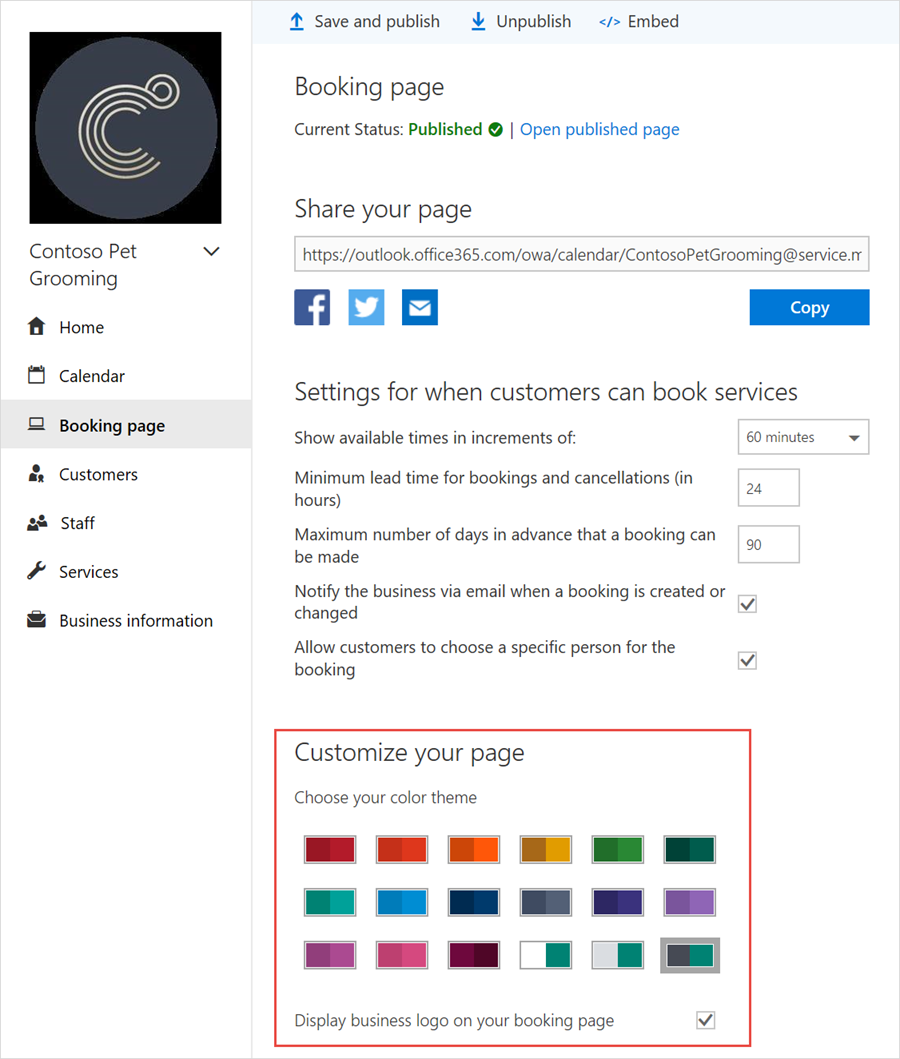 Use the Booking page tab to customize your Booking page. Remember to click Save and publish to keep your changes.
How to get started with Bookings
Bookings is included in all Office 365 Business Premium subscriptions, and getting started is easy. To simplify the work of customer scheduling for your business, just sign in to Office 365 and click the Bookings tile on the App Launcher. If you don't see the Bookings tile, we may still be in the process of rolling out the service in your region—so check back a bit later. If you need more help, the article "Say hello to Microsoft Bookings" provides a quick overview of how to use Bookings.
Once you are signed in to Office 365 you can find the App Launcher on the top left corner.
Bookings is designed to delight your customers, simplify scheduling and free time for you to be on top of your business wherever you are. Your feedback has been extremely useful; please keep it coming by clicking the feedback links found on the Bookings home page.
—The Bookings team
Frequently asked questions
Q. Why can't I see Bookings?
A. We are actively rolling out Bookings in all regions and it may take a few weeks for the updates to reach every customer. If you are already signed in to your Office 365 web experience, please try signing out and back in.
Q. Why can't I see new features mentioned here, like Office 365 calendar integration and buffer time?
A. We are activating these new capabilities for all Bookings users, but the rollout will take a week or two to complete.
Q. Will someone outside of my company see my schedule and meetings?
A. No. Bookings will only use your Office 365 calendar free/busy information to block that time so you won't be double-booked.
Q. I use Facebook as my business's webpage. Can I use Bookings?
A. Yes. In October, we announced how to connect Microsoft Bookings to your Facebook page and grow your business.
Q. How do I learn more about the new features?
A. Our Microsoft Bookings support page has more details about Bookings.
Q. Will Bookings be available for Enterprise customers (E3 and E5)?
A. We intend to bring Bookings to E3 and E5 customers in the future.
Q. Where do I download the Bookings app?
A. The Bookings app for iOS is available in the App Store. The Bookings app for Android is available in Google Play in the U.S. and Canada, and will be rolling out worldwide in the next couple of weeks.
Q. Where can I learn more about simplifying my booking process?
A. Read our eBook, "4 Ways to Simplify Your Appointments Booking Process," to learn more.
The post New reasons to make Microsoft Bookings the go-to scheduling software for your business appeared first on Office Blogs.

Source: Office 365