Amazon WorkSpaces allows you to access a virtual desktop in the cloud from the web and from a wide variety of desktop and mobile devices. This flexibility makes WorkSpaces ideal for environments where users have the ability to use their existing devices (often known as BYOD, or Bring Your Own Device). In these environments, organizations sometimes need the ability to manage the devices which can access WorkSpaces. For example, they may have to regulate access based on the client device operating system, version, or patch level in order to help meet compliance or security policy requirements.
Managed Device Authentication
Today we are launching device authentication for WorkSpaces. You can now use digital certificates to manage client access from Apple OSX and Microsoft Windows. You can also choose to allow or block access from iOS, Android, Chrome OS, web, and zero client devices. You can implement policies to control which device types you want to allow and which ones you want to block, with control all the way down to the patch level. Access policies are set for each WorkSpaces directory. After you have set the policies, requests to connect to WorkSpaces from a client device are assessed and either blocked or allowed. In order to make use of this feature, you will need to distribute certificates to your client devices using Microsoft System Center Configuration Manager or a mobile device management (MDM) tool.
Here's how you set your access control options from the WorkSpaces Console: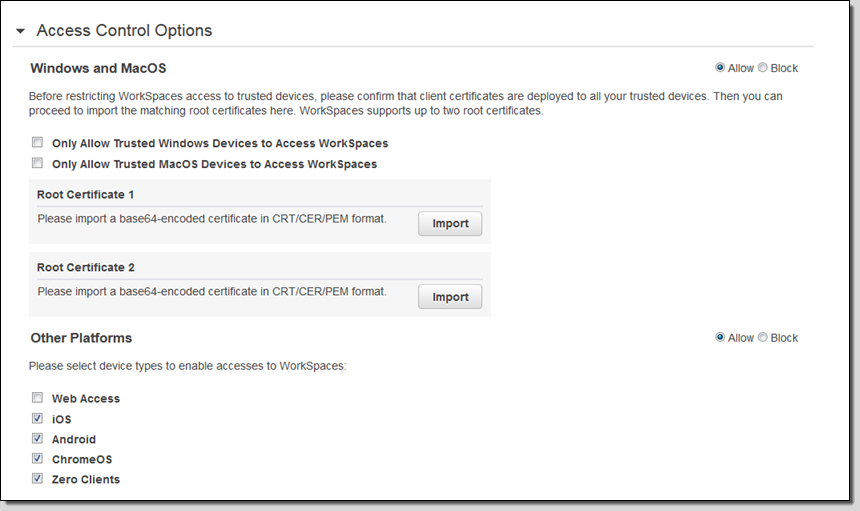 Here's what happens if a client is not authorized to connect:
Available Today
This feature is now available in all Regions where WorkSpaces is available.
— Jeff;

Source: AWS