When teachers talk, we listen. Now that Microsoft Forms is generally available, we have been responding to millions of requests for new features—especially from educators who rely on Forms in their classrooms. Today, we're introducing three new features to make Forms even more collaborative and customized for educators and students.
Embed forms in OneNote
Integrating Forms and OneNote is one of the top asks from educators who use the OneNote Class Notebook and want to seamlessly integrate formative assessments. Now, you can embed a form into OneNote Online in just a couple of steps. Under the OneNote Insert menu, click Forms, and then in the Forms for OneNote pane, select a form.
Select a form to embed in OneNote.
Once you select the form, you can embed it into OneNote. To learn more, see Insert a form into OneNote Online.
Embed the form into OneNote.
Once the form is embedded, students can answer the form and see their results, all in OneNote.
Form in OneNote for student to complete and receive feedback, in one place.
Customizing forms with images and backgrounds
Now, you can customize the background of your form by inserting an image from Bing and OneDrive, or uploading an image from your local computer.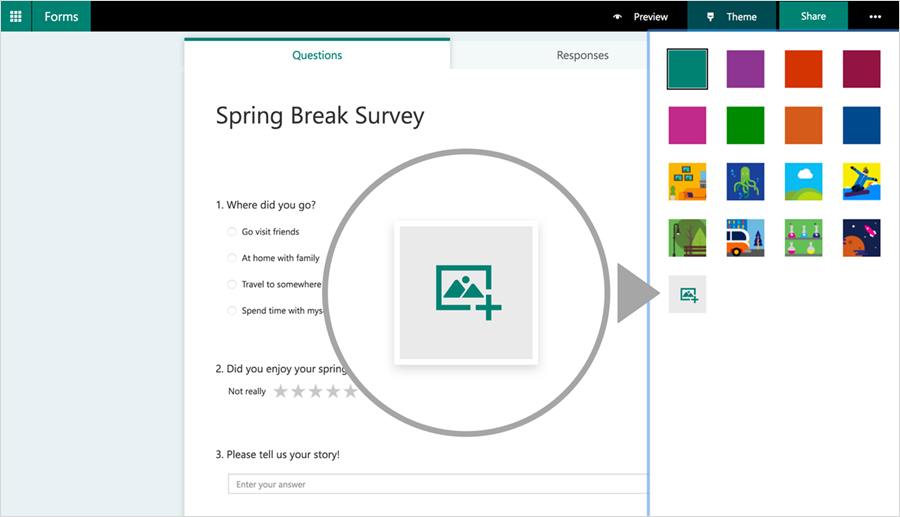 Insert a customized background image.
Forms automatically adjusts the theme color to match the background image. To learn more, see Change a form theme.
Form theme color automatically matches the background image.
Accessing forms—the Other forms portal
The Other forms portal allows form designers to access all the forms they've opened via the Share to collaborate link. In other words, you can get back to "other people's forms" without having to find the original email, IM conversation or other places where you originally opened the form.
Other forms portal page.
Forms shared by others.
Create a form or quiz
Educators can create a form or quiz, define settings, share the form and then check the results. Just follow these simple steps:
Learn more about using Forms
To learn more, see Copy a form, Delete a form, Share a form or quiz as a template and Share a form to collaborate. Also, visit What is Microsoft Forms? and our FAQs page for more information. Finally, read "Individualizing instruction with the new Microsoft Forms" by Laura Stanner, Microsoft Innovative Educator (MIE) Expert, for an in-depth look at Forms.
You can send us feedback at our Microsoft Forms UserVoice, where you can vote on other users' product suggestions to help influence the product.
The post New educator-focused features in Microsoft Forms appeared first on Office Blogs.

Source: Office 365