In Episode 125 of the Office 365 Developer Podcast, Richard diZerega and Andrew Coates talk with Bill Bliss about Microsoft Teams extensibility.
Weekly updates
Show notes
Got questions or comments about the show? Join the O365 Dev Podcast on the Office 365 Technical Network. The podcast RSS is available on iTunes or search for it at "Office 365 Developer Podcast" or add directly with the RSS feeds.feedburner.com/Office365DeveloperPodcast.
About Bill Bliss
Bill Bliss is a Partner Platform architect for Microsoft Teams, a founding member of the Microsoft Teams product. He focuses on the Microsoft Teams developer platform and its integration with Bot Framework. He rejoined Microsoft in late 2013, after a nearly 10-year absence, to work on the iOS and Android versions of the MSN applications (News, Sports, Finance, Food & Drink, and Health & Fitness). He also worked on the DMX startup group (the predecessor of the Microsoft Teams effort) and was the PM architect for MSN. Immediately before rejoining Microsoft, he was VP of Product Management in VMware's End-User Computing (EUC) Division, responsible for product management of Horizon Application Manager and the core Horizon platform. Bill joined VMware in 2011 after serving as VP and GM of Myspace, Inc.'s Search and Recommendations team, where his team built three new service platforms. He also he served as the business owner for News Corp.'s $900M advertising contract with Google. He's been a part of two start-ups: Gomez, Inc. (now a division of Compuware), where he was VP of Emerging Technologies, and Klir Technologies, where he was CTO. Before Klir, he was an SVP at Expedia, Inc., responsible for Expedia.com and Hotels.com product management, product roadmap, and business analytics. Prior to Expedia, Bill worked over 16 years at Microsoft in a variety of senior technology and management roles from 1987 to 2003. As general manager of the Natural User Interface group, he worked on advanced search and user interface technology for Windows, building on his experience as general manager of MSN Search. Under his tenure, MSN Search launched in 1998; by 2002 it had grown to over 100 million queries per day, more than $100M in annual revenue, and 34 international markets in 13 languages. Prior to MSN Search, he was a founding member of the team that designed and built the first two versions of Microsoft Outlook, and holds nine U.S. patents related to Microsoft Outlook. He earned a BS in Computer Science from Northwestern University in Evanston, Illinois.
About the hosts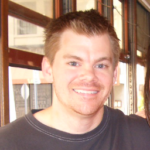 Richard is a software engineer in Microsoft's Developer Experience (DX) group, where he helps developers and software vendors maximize their use of Microsoft cloud services in Office 365 and Azure. Richard has spent a good portion of the last decade architecting Office-centric solutions, many that span Microsoft's diverse technology portfolio. He is a passionate technology evangelist and a frequent speaker at worldwide conferences, trainings and events. Richard is highly active in the Office 365 community, popular blogger at aka.ms/richdizz and can be found on Twitter at @richdizz. Richard is born, raised and based in Dallas, TX, but works on a worldwide team based in Redmond. Richard is an avid builder of things (BoT), musician and lightning-fast runner.
A Civil Engineer by training and a software developer by profession, Andrew Coates has been a Developer Evangelist at Microsoft since early 2004, teaching, learning and sharing coding techniques. During that time, he's focused on .NET development on the desktop, in the cloud, on the web, on mobile devices and most recently for Office. Andrew has a number of apps in various stores and generally has far too much fun doing his job to honestly be able to call it work. Andrew lives in Sydney, Australia with his wife and two almost-grown-up children.
Useful links
StackOverflow
Yammer Office 365 Technical Network
The post Episode 125 on Microsoft Teams development with Bill Bliss—Office 365 Developer Podcast appeared first on Office Blogs.

Source: Office 365