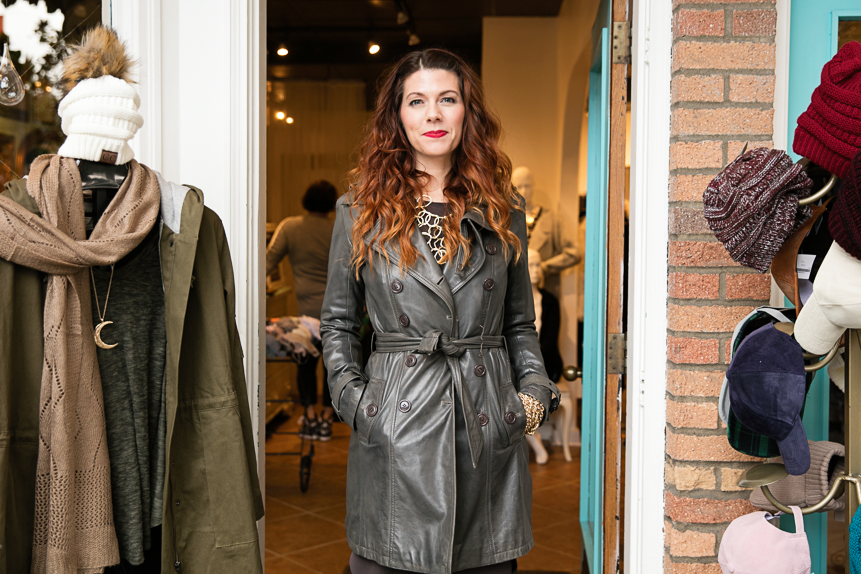 Mellicia Marx is in the business of transformation. She runs Poplin Style Direction, a personal styling business that ensures a client's look is on point. She's helped new mothers revive their wardrobes, and other clients dress for new office environments confidently. "I love watching people transform," she says.
Mellicia helps people understand which garments best complement their shape, personality and lifestyle. She teaches them how to shop, what to wear and how to wear it. Mellicia finds the secret style sauce that elevates each client.
Polishing a business's image
Mellicia also knows that the success of her business depends on styling, too. The look and feel of her business and good communication with clients are key to growth. Through her website, she introduces clients to the styling process and options, and provides a private client access area where she shares personalized advice with each client. The website also includes her blog, the "voice" of her business, where she offers styling advice that has proven to be a powerful tool for attracting clients.
Mellicia finds Microsoft Word to be invaluable to maintaining her online presence because it makes it easy to share information with her web designer for needed updates. "Word is user-friendly," she says. "You can figure out everything you need to do in five minutes or less." She also spends a lot of time traveling between clients, and Microsoft Office mobile apps help her keep business moving when she's not at her desk. "I have Office on my iPad Mini, so I can view and make edits to a document and respond to my designer or other contractors quickly."
Structuring work-life balance
While rewarding in its freedom and creativity, being an entrepreneur can also make it more challenging to find work-life balance. Mellicia's business is built on relationships, and nurturing them takes time. Efficiency in her personal life is crucial. "Word helps me organize our home life," she explains. For example, she uses Word tables to organize her son's activities, and to coordinate with the families of his friends who do the same activities or camps. "It keeps us all on the same page."
Weaving retailer data with client needs
The amount of data involved in styling can be overwhelming. "I share a giant, complex spreadsheet with a contract stylist. We use it to track brands, online retailers and boutiques," Mellicia says. "My Microsoft Excel sheet is a vital resource."
The spreadsheet contains information Mellicia can use for clients, and in her blog and social media posts. It includes trend, sizing and style data categorized by brand and retailer. "Excel lets us easily sort this information depending on the task at hand," she says. For example, she uses the split planes feature of Excel to focus on a single client and see which retailers may carry a needed item. She also easily searches the data to find a specific size or trend item. "It would be impossible for me to track this information without Excel."
Mellicia and the contract stylist share the spreadsheet online, so the information can be updated easily by either of them. "It's exciting to open up the spreadsheet and rediscover retailers or brands I may have forgotten about," she explains. "More resources for me means more resources for clients—and all in all, it lets me do my job better."
Mellicia's also considered some of the newer features in Excel, like Maps. "This could become useful for our marketing," she says. "With Excel Power Maps, I could plot client locations and use this information to create Facebook ads targeted to those areas or host an event where a concentration of clients is located."
Giving back with panache
Despite her busy schedule, Mellicia finds time to give back as an entrepreneur. She volunteers with YouthCare, a nonprofit that provides services, education and training to homeless youth. Mellicia hosts styling sessions for youths, ages 16–24. "I help them translate the authenticity of their personal style to clothes that are appropriate for job interviews and work," she explains.
Mellicia uses Microsoft PowerPoint to give presentations at YouthCare. "It's great for these kids to be exposed to business tools like PowerPoint," she says. "Also, my whole team of volunteers uses it—so if I can't make it to a presentation, any one of them can take over and run the show."
Just as a bold wardrobe is built on basics, Mellicia relies on Office as a foundation for her business. Whether it's communicating with colleagues; organizing, sorting and analyzing retailer data; or presenting fashion concepts in her volunteer work, Office is her go-to technology. "I can't control what software my contractors or clients use, or their level of comfort with different technologies—so it's especially important I use tools that are easy for anyone," she says. "Office offers that and more. It lets me spend my time on work that matters—providing great style options for my clients."
The post Entrepreneur helps clients transform with Office appeared first on Office Blogs.

Source: Office 365