AWS Marketplace lets AWS customers find and use products and services offered by members of the AWS Partner Network (APN). Some marketplace offerings are billed on an hourly basis, many with a cost-saving annual option designed to line up with the procurement cycles of our enterprise customers. Other offerings are available in SaaS (Software as a Service) form and are billed based on consumption units specified by the seller. The SaaS model (described in New – SaaS subscriptions on AWS Marketplace) give sellers the flexibility to bill for actual usage: number of active hosts, number of requests, GB of log files processed, and so forth.
Recently we extended the SaaS model with the addition of SaaS contracts, which my colleague Brad Lyman introduced in his post, Announcing SaaS Contracts, a Feature to Simplify SaaS Procurement on AWS Marketplace. The contracts give our customers the opportunity save money by setting up monthly subscriptions that can be expanded to cover a one, two, or three year contract term, with automatic, configurable renewals. Sellers can provide services that require up-front payment or that offer discounts in exchange for a usage commitment.
Since Brad has already covered the seller side of this powerful and flexible new model, I would like to show you what it is like to purchase a SaaS contract. Let's say that I want to use Splunk Cloud. I simply search for it as usual:
I click on Splunk Cloud and see that it is available in SaaS Contract form:
I can also see and review the pricing options, noting that pricing varies by location, index volume, and subscription duration:
I click on Continue. Since I do not have a contract with Splunk for this software, I'll be redirected to the vendor's site to create one as part of the process. I choose my location, index volume, and contract duration, and opt for automatic renewal, and then click on Create Contract:
This sets up my subscription, and I need only set up my account with Splunk: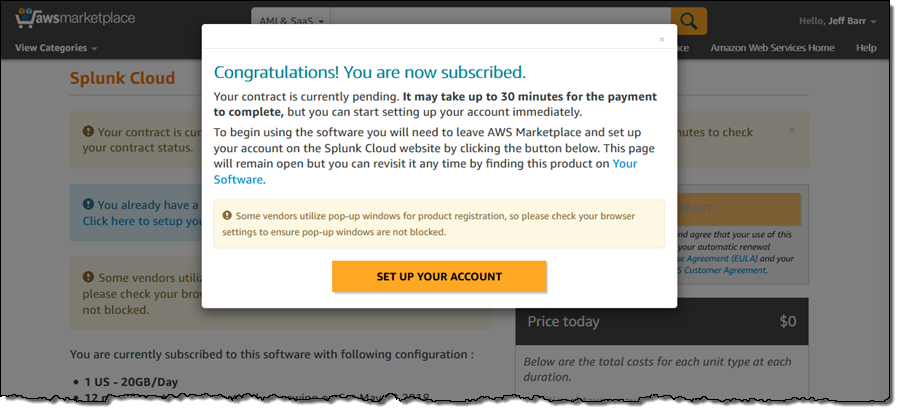 I click on Set Up Your Account and I am ready to move forward by setting up my custom URL on the Splunk site:
This feature is available now and you can start using it today.
— Jeff;

Source: AWS