Apple has released its most expensive computer: iMac Pro.
The new high-end desktop computer, which was first unveiled at Apple's Worldwide Developers Conference (WWDC) in June, arrived in stores worldwide on Thursday.
The company is calling the product its fastest and most powerful Mac to date. Starting at $4999, it's also the priciest offering in its computer lineup. The speediest configuration with all the available upgrades costs more than $13,000.
The 27-inch matte gray computer comes with either an 8-core, 10-core or 18-core Xeon processor, and it has up to 22 teraflops of graphics power.
Unlike the Mac Pro, Apple's cyclinder-shaped desktop computer for professionals ($2,999) that comes without a display, iMac Pro is an all-in-one system with a 5K display.
The iMac Pro is Apple's latest effort to appease its professional users, who have to wait extended periods of time between Mac Pro updates. The new computer is powerful enough for real-time 3D rendering, video editing and virtual reality content design.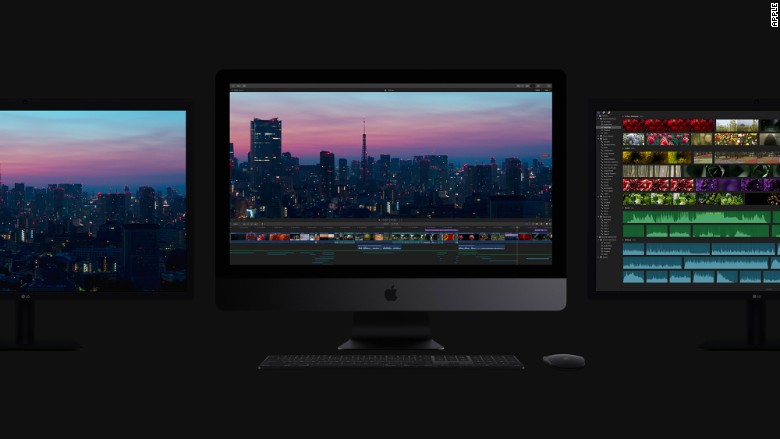 Although the Mac Pro hasn't been updated since 2013, its next iteration will be available in 2018. The iMac Pro is Apple's solution in the interim.
Microsoft(MSFT) has also been upping its appeal for professional users. Last year, the company announced the Surface Studio ($2,999) desktop PC, aimed at designers. Users can position it upright to sketch, paint or edit photos, or lay it flat to draw.
In October, the company unveiled the new Surface Book 2, a laptop aimed at professionals that competes with the Apple's MacBook Pro. The Surface Book 2's signature feature is a screen that can detach and act as a tablet.
Apple's iMac Pro isn't for everyone, but it's a powerful option for the developers, designers and other professionals who can afford it.
In the words of Tim Cook at WWDC: "That iMac Pro really is bad ass."